Reach new supporters and optimize your content for success!
By Ashley Prior, Senior Digital Implementation Specialist
While every social media manager dreams of "going viral," it shouldn't be your benchmark for social media success. If you are a nonprofit organization, having a solid social media presence is essential. But, with limited resources and time, it can be challenging to keep up with the ever-changing social media landscape.
Building a strong, online community of supporters who are engaged and invested in your mission is key. Here are 7 easy tips that you can use to quickly improve your nonprofit's social profile. Learn how to reach new supporters and strengthen your bonds with people loyal to your cause!
1. Optimize your profile link
Work past the limitations of a single link option by creating a Linktree to improve your nonprofit's social profile! A Linktree is a landing page that gives users easy, one-click access to all the content you would like to share.
You can use your Linktree link on all of your social media platforms. For example, in the website field in your Instagram bio, you'd copy and paste your Linktree link. We have also seen organizations add these to their Facebook, Twitter and other social profiles.
Setup is easy! Include your logo at the top of the page, add buttons to your links (we recommend no more than 10) and icons to follow your other social accounts.
You can build this on your own website as a landing page, or you can use an app like Linktree or a free mobile app option like Milkshake.
Need some inspiration? Check out BDI's link page here!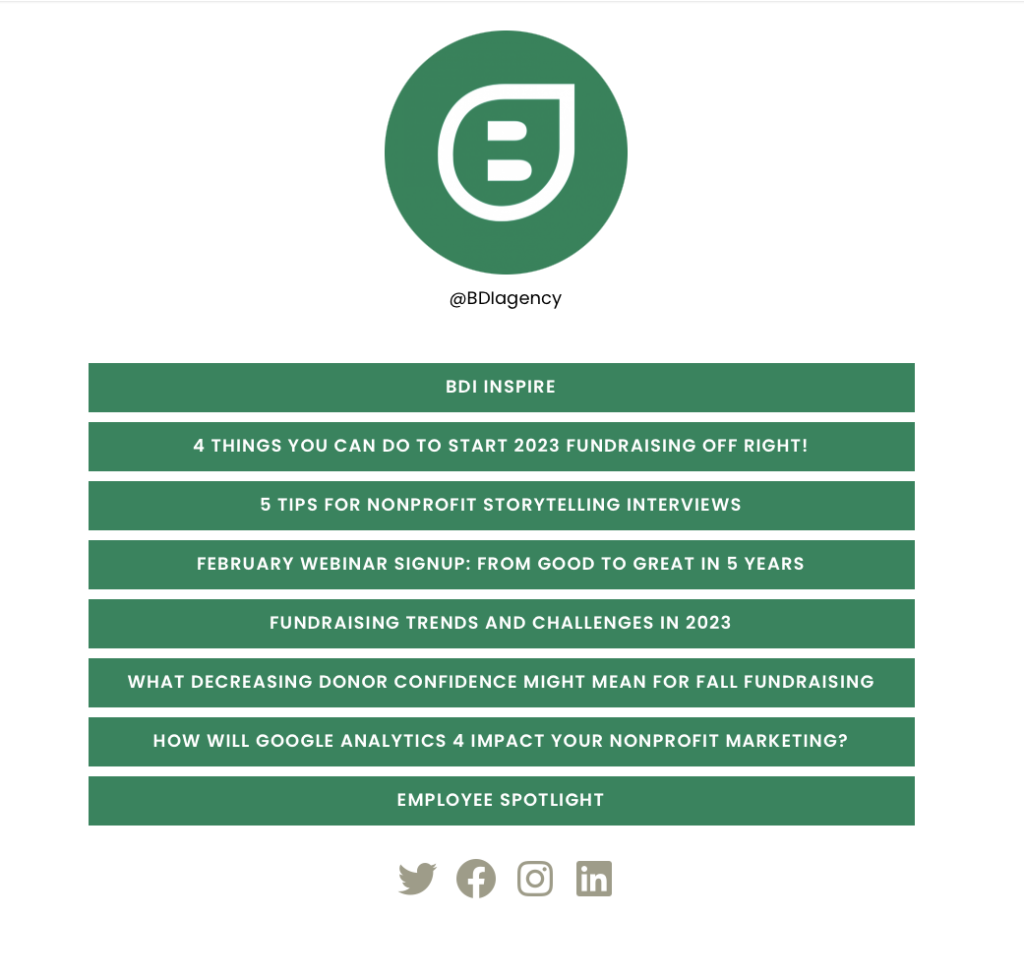 2. Post shareable content
Shareable content is any content that a user is motivated to reshare from your feed to their own. Reshares help boost your impressions, increase your engagement and build your brand awareness. Improve your nonprofit's social profile by creating shareable content that can help your posts reach farther! Take an inventory of your most shared posts as a template for your content calendar.
Here are a few creative elements that get the most shares on BDI's own channels:
Carousel posts with engaging facts on each slide
Long-form captions. Especially on Instagram, we have found that posts with long, engaging captions tend to get the most engagement.
Spotlight posts. Highlight employees, clients and volunteers through spotlight posts. Often those in the spotlight reshare the post to their own accounts, especially when they've been tagged!
3. Set up accounts as nonprofits
A majority of social media networks offer special features for nonprofits. These can include "donate" buttons on your account, dedicated support and fundraising tools. Make sure to enroll as a nonprofit in order to access these benefits that can help improve your nonprofit's social profile.
Facebook
Instagram
YouTube
TikTok
4. Share stories about people
As a nonprofit, sharing stories from your community is key to building strong connections and relationships with your audience. When creating your content calendar, focus on your network of people and reshare their stories. Great people to interview for content could be your volunteers, board members, monthly donors and staff members.
To keep these types of posts simpler to write, consider making them into a series. At BDI, we created #MissionMonday, which offers a post structure to follow when sharing about our client partners. Check out one of our more recent posts in the series here.
5. Keep your social strategy connected
Social media shouldn't be out there alone; it should be integrated and aligned with your strategic goals and target audiences. Your posts should back up your efforts on your other marketing channels, including your print and email strategies. Use your social networks to promote email list signups, fundraising campaigns and blog visits.
At BDI, we include social posts as a part of each of our email efforts. Every Quick Shot email, Inspire newsletter and Academy Insider issue always has an accompanying social media post. That keeps our marketing channels connected and helps fill our social content calendar!
6. Show your supporters some behind-the-scenes action
Another way to improve your nonprofit's social profile is by highlighting your staff and organization in action behind-the-scenes. Show your followers just how much energy your team brings to your cause and exactly where your supporters' gifts are going.
Take supporters on a tour of your facilities and services. Share your annual report and financial data when appropriate. Share the wins and the needs you are facing in real time and see how your supporters will respond!
7. Take advantage of free training and resources
There are lots of opportunities to take advantage of free social media training and resources. (And BDI has a DIY Social Media Workshop for nonprofit organizations that you can watch here!)
Nonprofits can often receive training for free or for a discounted fee. Hootsuite has compiled a great list of these resources. All are offered online and can be taken on demand as you find time to broaden your social network skill set.
No need to go viral! On social media, as in all areas of your nonprofit marketing, never stop regularly testing, tweaking and optimizing your content and strategy. As you take steps to improve your nonprofit's social profile, I hope these 7 quick and easy tips will help guide you… and that you'll experience the benefits of building a strong, consistent community of supporters online. If you have questions about these tips, BDI's Social Media Team is eager to help! Email us now at social@bdiagency.com