What trends are on their way out, and what will take their place in 2023?
By Katrina Williams, BDI Senior Marketing Manager
Several months ago I wrote this quote down on a sticky note and placed it on my computer, where it still hangs today:
"A year from now, you'll wish you had started today."

karen lamb
This quote not only reminds me to get things done right away (motivating my inner procrastinator)… but it inspires me to take time today to understand upcoming marketing trends. Doing so will help lay the foundation of new strategies that guide and shape BDI's marketing capabilities in the future.
In anticipation of what the next year will look like in the marketing and fundraising world, there are some top marketing trends that are on their way out, and some new ones that are emerging in their place. Instead of ignoring upcoming trends – or letting everyday busyness distract your focus – I encourage you to act on these new trends today.
That's why today I am sharing the four top marketing trends that currently are on their way out, and today's top marketing trends that will be emerging in their place in 2023:
In: Short-form Video 👍 Out: Long-form Video 👎
In 2022, we saw short-form video content dominate social media. Facebook and Instagram reels, TikToks, and Youtube Shorts have quickly become the favorite type of content across platforms, creating a fast-paced frequency of online content that audiences have become accustomed to.
According to a study from the Digital Marketing Institute, 86% of businesses use video as a marketing tool, and 92% value it as an important part of their strategy in 2023.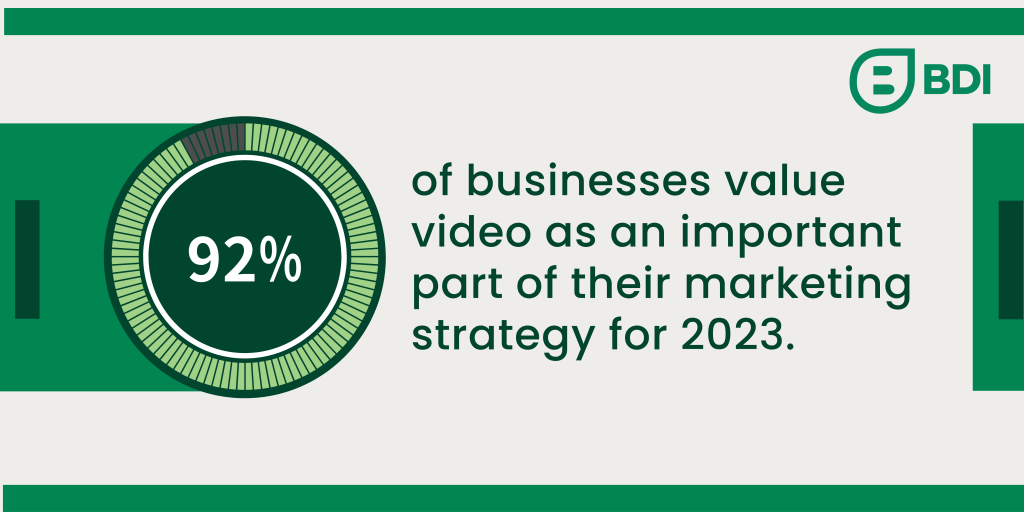 So we know that videos are going to be an important part of marketing in 2023. But why produce short-form videos?
Short-form video takes less time to produce, which makes it easier to create more videos.
It is cheaper to produce, and does not require high-end production equipment.
Because of the organic, unscripted style of short-form videos, your audience is more likely to relate to your brand and engage with your organization.
You have an opportunity to share videos that showcase different elements of your organization, and different stories from people helped by your cause.
It's easier to capture people's attention and increase engagement with short-form content. According to LinkedIn, videos made for brand awareness have a 200% lift in completion rates when they are under 30 seconds.
Because of these benefits, nonprofit and for-profit companies across the nation have learned that getting to the point with short-form videos is actually really effective.
In 2023, 90% of marketers using short-form video will increase or maintain their investment next year, and 1 in 5 marketers plan to leverage short-form video for the first time!
If your organization is on social media, plan to integrate short-form video content into your content marketing strategy for 2023. Look at successful companies for ideas, and don't be afraid to try new things. You can even repurpose old videos or portions of long-form videos to create new shorts!
In: Authentic Partnerships and Micro-influencers 👍 Out: Celebrity and Big-Name Endorsements 👎
As social media has become a core marketing strategy for many B2B and B2C companies, the way that supporters choose trusted brands has also changed.
With current top marketing trends, the days of trusting a brand because it's supported by a big-name or a fan-favorite celebrity endorsement are fading out. According to a recent study, only 38% of millennials trust endorsements from a celebrity or athlete.
Today, supporters are skeptical about large corporations, and are looking for authenticity and vulnerability when it comes to trusting a brand. So how do companies connect potential supporters with individuals who they consider to be "trusted experts"?
Define your partnerships. Build a list of your organization's strongest, trusted partners, and create a strategic agreement to advocate for each other's organizations. You can do this by sharing each other's social media content, cross-blogging, engaging in webinars and podcasts together, and even giving a good recommendation to each other's supporters.
Invest in micro-influencers: If you are an organization who wants to connect with younger supporters, consider investing in micro-influencers. These are individuals with tens of thousands of followers who align with your cause, and would be willing to advocate for your organization to their niche follower group. Today, more than 56% of marketers who invest in influencer marketing work with micro-influencers. In fact, micro-influencers boast up to a 60% increased engagement rate compared to maco-influencers.

According to Hubspot's 2023 Marketing Strategy and Trends Report, 89% of marketers who currently engage with influencer marketing plan to increase or maintain their current investment in 2023. And 17% of marketers are planning to invest in influencers for the first time next year. This top marketing trend can be a good way to have your dollar go farther while expanding brand awareness to the right audience, on a platform they are already engaging on.
In: Using Content Variation to Get Support through Social Media 👍 Out: The Traditional Sales Funnel 👎
With the increased preference for organic content on social media, there's now a noticeable difference between content that is made to drive your audience down a sales funnel, and content that is made to engage and create a meaningful connection with your supporters. This is what Hubspot calls, The Flywheel… but we'll get to that.
The first step is to know your audience and make sure that your strategy on each platform matches the types of content that they are engaging with. You can do this by performing an audit on your content to discover what performs well on each platform. Then, apply these findings to your content strategy accordingly.
Consider this – 84% of TikTok users are also on Facebook, and almost 88% of Twitter users are also on Instagram. People don't only get different types of value from different platforms, they explicitly use different social networks for different purposes.
Hootsuite said it best in their recent report on The Future of Social Marketing:
"What the networks have failed to consider is that user attention is not a zero sum game. People on one social platform are often on several others as well… On Facebook, they might catch up with a friend overseas. On Twitter, they might skim over the day's breaking news. And on TikTok, they might look for a laugh while searching for the latest viral trends."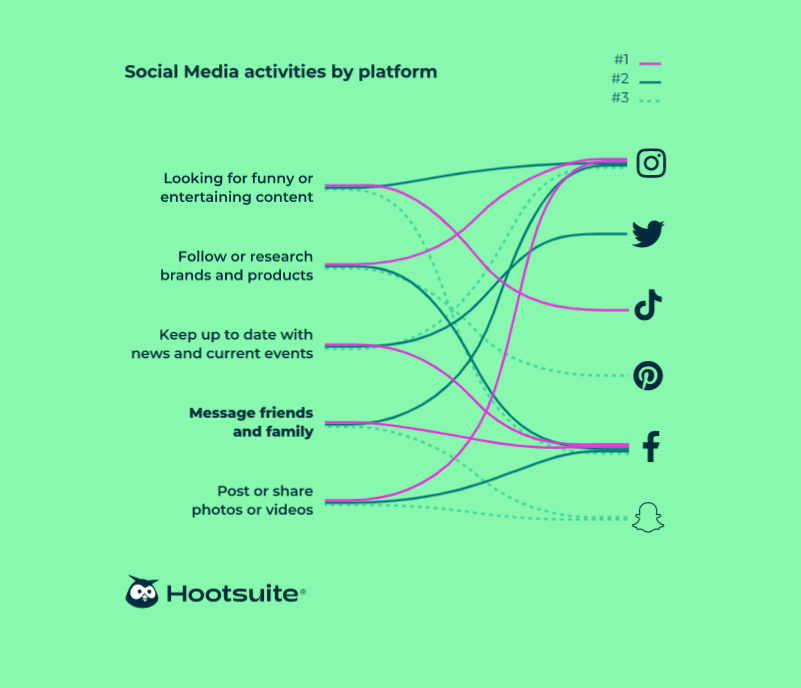 Even though it's easier to repurpose your content across all channels, it's not going to be an effective strategy for making an effective connection with your audience. Hubspot has a helpful way to visualize how marketers should be capturing the attention of potential supporters based on authentic connections. It's called The Flywheel.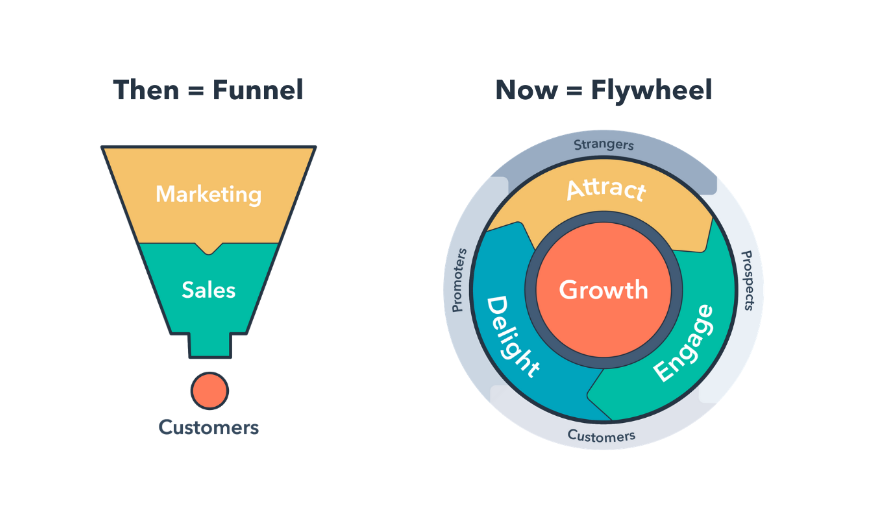 "The flywheel illustrates this process: excellent service as its own marketing strategy." – Hubspot
Instead of using your marketing efforts as a means to get more support for your organization, the flywheel encourages personal connection to your brand that empowers and equips your supporters to become advocates and promoters of your cause.
Now apply the flywheel to your social media content. How can you adjust your strategy to attract, engage, delight and ultimately create a meaningful connection to your supporters on these platforms? This shift will turn your funnel into a flywheel.
4. In: Podcasts and Audio Advertising 👍 Out: Clubhouse and Twitter Spaces 👎
If we rewind a few years, audio chat rooms like Clubhouse and Twitter Spaces surged as a way to connect people at the start of the pandemic. But today, these platforms are no longer seen as necessary to have authentic conversations and connections with online supporters.
In 2023, 29% of marketers are planning to stop investing in audio chat rooms like Twitter Spaces and Clubhouse. So what should your organization be investing in instead?
Podcasts and audio advertising! According to a recent study, the number of podcast listeners in 2023 could surpass 160 million. And last year, three out of four weekly podcast listeners claimed to have taken action to buy or research a product after hearing a podcast audio ad.
If your organization has not thought about starting a podcast, consider these benefits:
Podcasts can be taken anywhere. They can also be paused, started and replayed at any time.
They are versatile in topic, making podcast listening attractive to a really wide audience.
Podcast listeners are loyal. 80% of people listen to all or most of each podcast episode and listen to an average of seven shows per week.
Podcast recording gives your organization complete control of the advertising and messaging that is being shared with supporters. Which is something not found in open discourse settings like Twitter Spaces.
Podcast advertising can be a great way to make money for your business and leverage strategic partnerships.
But most importantly, podcasts are a great way to show your expertise and give your supporters a behind-the-scenes peek into your organization, which will ultimately help raise awareness about your cause and build a loyal fan base.
In Conclusion: Start Today
Remember, "A year from now, you'll wish you had started today." Don't wait to act on these top marketing trends. Apply them to your marketing strategy today and take time to look at the results on some of the trends that may be on their way out in 2023. If you have any questions, please reach out to me at kwilliams@bdiagency.com