BY KATRINA WILLIAMS, MARKETING MANAGER
I love home renovation shows.
Whether it be Extreme Makeover, Fixer Upper, Love It or List It, or Property Brothers… it's always encouraging to watch someone start a new, fresh chapter of their lives (while getting design inspiration for my own home along the way, of course).
For nonprofits, the season of "home renovation" is coming to a close. With fall just around the corner, now is the time to put the final touches on your social media program before launching your content into the busiest ‒ and most important ‒ fundraising season of the year. It's crucial, then, that your content rises above the noise and gets noticed!
You're in luck ‒ I have 4 steps to building a strong and successful nonprofit social media program to share with you. These tips will help you build a strong foundation of content this fall that will get noticed, liked, shared… and maybe even lead to donations!
Put on your tool belt and let's get started!
1. Know your voice and learn your audience
As a nonprofit, social media is an integral part in telling your story, engaging with your supporters, and ideally, driving donations. But before you can begin to tell your story, you first need to decide on your social media voice and brand personality.
Meet with your social media team to set up guidelines on producing brand-centered content. Think about your brand, and how you'll communicate your cause. Will you use humor? Memes? Tell hard-hitting stories? Or use photos of cute kids with puppies? Each may be right for your cause, but you and your team have to decide what's most appropriate for your nonprofit's voice. When you get it right, people will notice and respond to your messaging. And you'll ultimately gain their trust and support.
After you agree on a strong social media voice, it's time to understand your audience.
One simple way to do this is to create a buyer persona. By using Facebook Audience Insights and additional analytics on your social media channels, you can compile data points such as…
age
income
language
interests
buying behavior
This information will give you insights into the most effective content to reach your key audience demographics through your social media feed.
2. Create a strategized content plan
Once you have a set voice and audience, the next step is creating a thoughtful content plan that aligns with your company objectives, campaigns and fundraisers. Here are some things to consider:
Choosing your channels: Instead of spreading yourself thin on all social media platforms, maximize your time and efforts on two to three channels that your audience frequents the most. TIP: You definitely don't want to use the same exact post on all platforms! I'll get into more detail about that below.
Relevancy: Make sure your content is time sensitive to what your audience is experiencing in their lives. This is especially important to remember if you create and schedule content far in advance of it being posted.
Diversity: Show different parts of your organization by posting different types of content throughout the week. This can include…

New and upcoming happenings
Urgent needs
Donor spotlights
Bible verses
Newsletter highlights

Frequency: Post at least once a day, 7 days a week. Scheduling this information into a team-shared content calendar will ensure that your content remains relevant, diverse and frequent. It will also keep your team on the same page, allowing them to plan ahead so they aren't left scrambling to post something at the last minute. If you would like to know the best times to post on your channels, check out the chart below!
Here is a chart that shows the best content to post on each channel for nonprofits: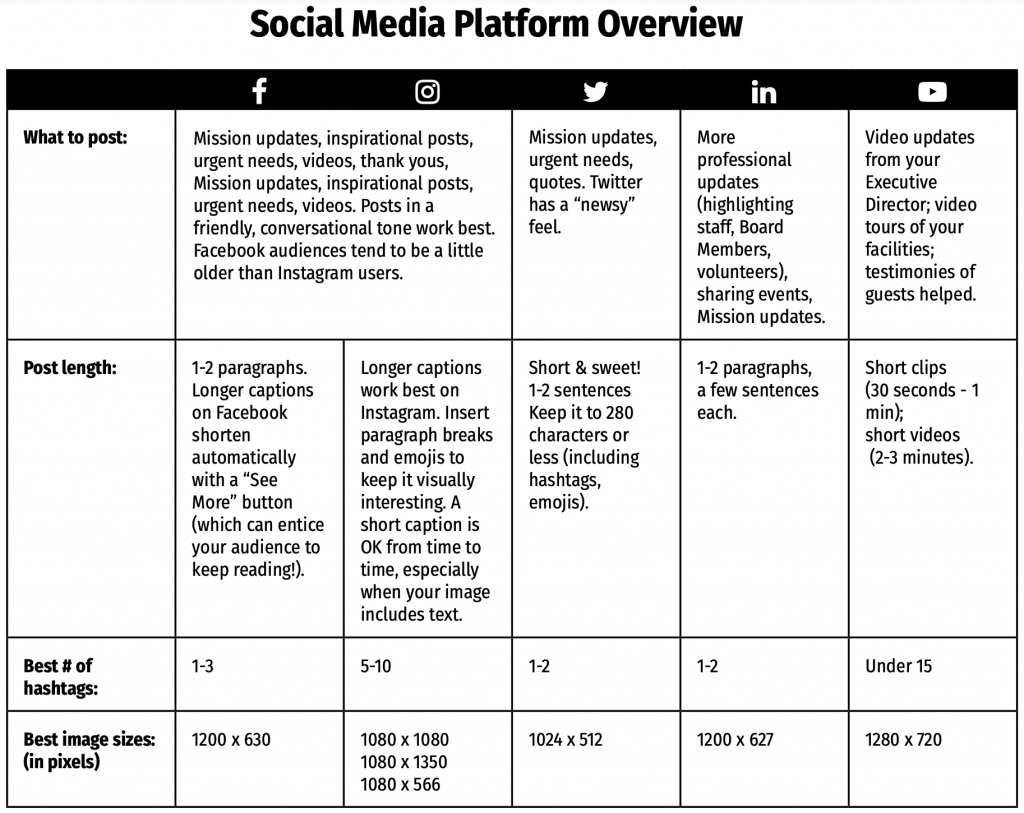 3. Take advantage of nonprofit benefits
Most social media platforms allow special offers and benefits for nonprofit organizations.
Facebook and Instagram allow nonprofits to create fundraisers, including Live Donation stories that your supporters can run through their personal accounts on your behalf! You can also add "donate" buttons on your pages and posts. This will allow visitors to donate directly to your organization from your page instead of first having to navigate through your website! (see directions below)
For more information on how to make Instagram stories, check out this one sheet!
Once you set up your accounts, here are some nonprofit benefits that you can explore:
Facebook
Instagram
YouTube
4. Track your growth and determine your key performance goals
Why would you put all this effort into your social media strategy without also tracking the results of your hard work? Tracking your success will allow you to test new ideas, refine your strategy, and show your leaders the value of investing in social media marketing.
Even though follower count and engagement can be a good indicator of overall brand awareness, there are deeper metrics that can show you how to better drive followers to action and engagement with your organization such as click-through rates, conversions to your website, referral traffic and more!
Analytics reports are free and readily available on your Facebook, Instagram, LinkedIn and Twitter accounts. Make sure to set aside time with your team to assess these reports and discuss what to tweak and test on your channels.
Here are a few things to ask when analyzing your social media results:
Are your posts effectively driving people to your website?
How could your posts change to better increase engagement?
What content is doing well and what isn't? Why?
Are people sharing and reporting your content? Why? Consider adding more questions and polls and opportunities to share in your posts to invite engagement with your followers.
One final note…
When you own a home, there's always something new that needs renovating ‒ and the same will be true of your social media channels! So build a culture of continual renovation into your program. That way, your team will expect and look for opportunities to redesign the places in your social media program that need a new coat of paint or a quick fix. Just like a home, it's work ‒ but it's fun!
Oh, and would I be a good social media marketer if I didn't ask you to follow BDI's channels? We not only release current articles on all things marketing and nonprofit fundraising, but keep our followers updated on industry news and new happenings with the BDI team. Follow us today.
Happy renovating!