3 steps nonprofits can take to prepare today
From Lolly Colombo, Executive Vice President Client Services
In times like these, I'm grateful to live on a little piece of land, where I can grow my own veggies… go out to the chicken coop for some fresh eggs… and save a little money on my weekly grocery bill.
Like me, I'm sure you've been astounded to see prices rising on even the most basic items at the store. With inflation up 9.1% since last year – the highest it's been in 40 years – we're all feeling the pinch, and that includes your organization's generous donors too!
The question on everyone's minds is how the current economy's challenges will impact donor giving, especially heading into the fall season. We can't deny that it will – however, our best estimate is not all "doom and gloom"! There are some bright spots to look out for, and there are some key ways BDI is tapping into these opportunities – and that nonprofit organizations should too. But first, let's take a look at what we're up against…
Giving's current climate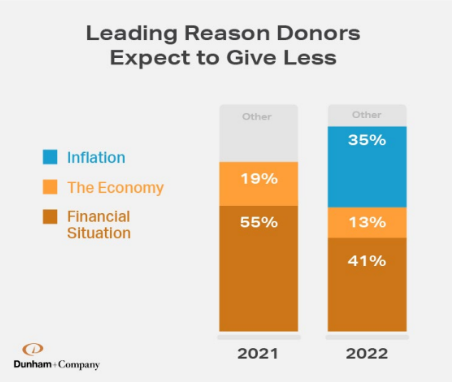 In April, Dunham+Company published their Donor Confidence Study, with some eye-opening findings on how donors feel right now. According to the data, 63 percent of donors surveyed are more cautious in their giving today compared to 59 percent in 2021.
Maybe you've felt this rising caution already at your organization – hopefully not! But either way, it's not surprising when we consider all that 2022 has brought our way:
Political volatility nationally: Partisanship at all levels of government has left many Americans feeling weary, vulnerable and unsure of whom they can trust as midterm elections approach.
War in Ukraine: The conflict in Europe sparked a rise in giving internationally and has stayed strong.
Inflation & the threat of recession: Inflation is at a 40-year high and many predict recession looms on the horizon.
Supply chain issues: In a culture used to everything "on demand," production delays continue to prove challenging. This has especially been felt in our world of fundraising, where rising mail costs, paper shortages and more have impacted direct mail strategy and net results.
Although the events of 2020 have continued to impact philanthropy, and overall donor giving in early 2022 appears to be trending down, let's take a deeper dive into the data. I think you'll be encouraged to see that there's still reason for hope heading into the fall.
Data reveals dropping donor confidence… but only for some age groups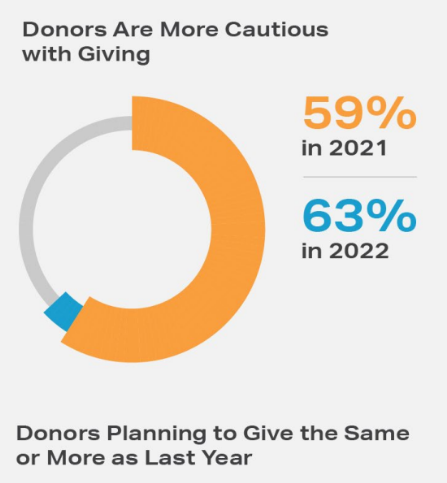 As mentioned above, donor confidence has fallen. In fact, 24 percent of donors surveyed by Dunham+Company say they intend to give less this year, or are unsure of their giving commitment, compared to 21 percent of donors last year.
Beyond current events, demographics appear to play an important role in donor confidence, particularly age. I'm often asked what strategies BDI is implementing to target younger donors. Growing a Millennial and Gen Z donor base is a "big, hairy, audacious goal" that many of our client partners are after!
While I encourage shooting for the moon and making sure your appeals speak to all of your donors at any age, during times like these, we have to make sure our strategies are driven by the data:
Average donor age: According to the Blackbaud Institute, the average donor age in the US is 65.
Higher-value donors: As older donors are typically more financially established, have less debt and a higher earning potential, they are often your file's higher-value donors.
Less cautious donors: In Dunham+Company's research, Baby Boomers expressed less caution around giving, compared to younger donors.
Older donors are like the "good and faithful servants" who give generously and see the impact of their support multiplied in the lives of those your organization serves. Whereas some younger – and more cautious – donors may be tempted to "bury" their treasures for safekeeping in these uncertain times. We understand that. The data makes sense!
What about donor giving this fall?
We know that the majority of nonprofit organizations' giving happens in the fall – Blackbaud estimates that October, November and December continue to represent 37% of annual charitable giving. Understandably, many organizations wonder what decreasing donor confidence may mean for their fall fundraising – which could impact their financials and services for the coming year.
Thankfully, older donors are continuing to give, despite the current climate… and where younger donors might pull back, we can count on older, higher-end donors to faithfully fill in the gap. BDI's client partners, Rescue Missions and other faith-first ministries, especially tend to be supported by an older donor base, so this is good news.
Still, we must keep in mind, as Giving USA reported earlier this year, that giving to human services organizations was not as high in 2021, compared to 2020. So, while we can all take a deep breath, knowing our older donors have our back, it's still wise to prepare in these uncertain times. So, I wanted to share BDI's recommended steps…
What nonprofit organizations should do to prepare
In the words of Bob Dylan, "the times they are a-changin"! Today we have the ability to reach more people with more opportunities to release generosity than ever before. But we're also facing changes in fundraising that require us to pivot, rethink and realign our vision for how we reach out to potential donors.
Here are 3 considerations BDI is recommending our nonprofit client partners make as they head into the fall fundraising season:
Get ahead of supply chain delays: Obstacles to production and supply chain delays are unfortunately to be expected these days. Recognizing this could affect in-home mail dates this fall and beyond, BDI's Production Team has researched cost-effective, efficient solutions in anticipation of challenges ahead. Similarly, our Creative Team has designed new packages that are easier to print in less time. These collective efforts have helped add time to schedules… and as we all know, time is money when it comes to delivering appeals to donors' mailboxes!

What can you do? Help your agency keep these projects moving. Ensure that your campaign revisions and approvals are concise and timely.
Don't lose touch: Ensure donors are cultivated all year long through a strategic, multi-channel communications plan that incorporates both print and digital options. Investing into digital and digital media strategies is a wise decision right now, as there are fewer material production limitations than in print.

For help on building a multi-channel fundraising program, I encourage you to check out this upcoming webinar, where BDI's VP Digital Strategy Stephanie Tippitt will share proven tips and advice to create a multi-channel strategy to reach your goals.
Be thoughtful about how you communicate needs: Keep donors connected to your cause and aware of the impact they're making. Strong messaging in your appeals is a must, and that means including both direct asks for support as well as reporting on positive outcomes your donors' support has made possible.

For example, if your organization is facing an increased demand for your services and a decreased budget, that's something to let your supporters know! Making your messaging relevant, and not sugar-coating the hard times, keeps your organization authentic and trustworthy in the eyes of your donors… and will pull on the heartstrings of these generous friends who want to help.
Final Thoughts
You're not alone if you're feeling that fundraising in such uncertain times as these is overwhelming, scary and just plain hard… but as we navigate these obstacles, remember this: People want to be generous. A mix of the right messaging, strategy and heart can help release generosity from these caring people to your cause.
Sometimes, our greatest times of ministry happen during times of great challenge. Take Jesus as an example. Born into a time of political unrest, religious hypocrisy, rampant prejudice and economic inequality… yet, it's during this time when Jesus' ministry was unleashed by God for greatest impact.
Even in these challenging times, may we consider what God-given, even God-blessed, opportunities await us as we serve in our ministries this fall and beyond. I hope these "bright spots" will be a light to guide you as we navigate together these new paths ahead.