Giving trends to watch in 2022 and beyond
From Michael J. Tomlinson ("MT"), President & CEO
If there's anything the last few years have taught us about charitable giving, it is that nonprofit organizations are resilient… and so are their donors.
In June, The Giving Institute released Giving USA: The Annual Report on Philanthropy. As the longest-running, most comprehensive report on philanthropy in the U.S., its findings can help organizations strengthen their fundraising strategy with the latest data and research in the field.
As a member of The Giving Institute board, BDI received early access to this vital insight. You know me – my inclination is to zoom out and provide a "view-from-50,000-feet" overview right away. But today, I'm going to resist that urge and instead launch into key details and practical takeaways from the data, not just because they're important for you (and for all nonprofits in America), but also because each gives us additional reasons for hope in 2022 and beyond. Without further ado, let's dig in…
KEY TAKEAWAY #1: The events of 2020 continued to impact giving in 2021.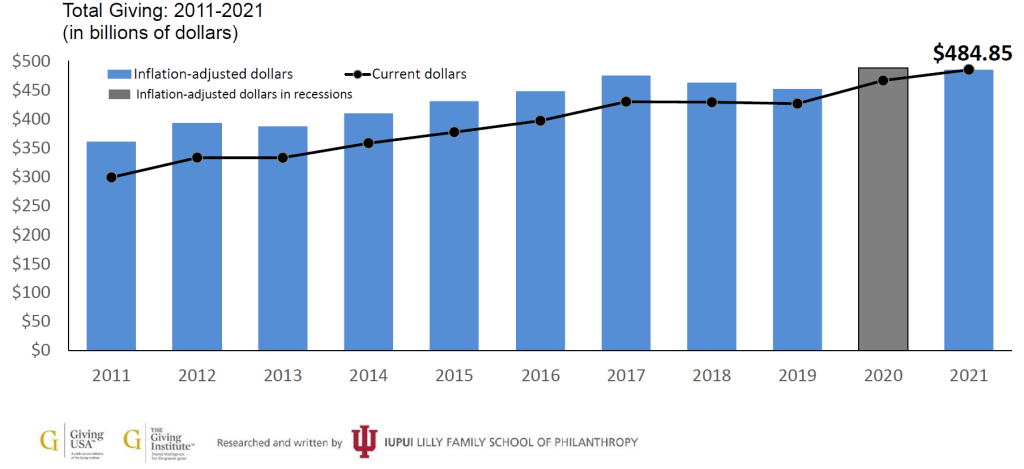 Although some would say we are living in a post-pandemic world, its challenges have continued into 2021 and 2022. While vaccines emerged last year, new variants led to continued shut downs. Supply chain issues have impacted all sectors of both business and ministry. Cost for many goods and services exceeded unavoidable double-digit hikes. We have experienced the highest rates of inflation in 40 years. And donor giving appears, based on our early and somewhat limited observations, to be trending downward in early 2022.
However, last year we experienced some encouraging recovery in both the stock market and GDP, which created favorable conditions for charitable giving. Giving in the U.S. reached a total of $484.5 billion in 2021. While generosity in 2021 was not as strong as in 2020, donors still recognized the expanded needs created by the pandemic and continued to come alongside nonprofits and ministries – especially those on the front lines of health and human services and compassion ministry.
Collective giving in America showed an increase of 4% in 2021, but it did not keep pace with inflation. Still, with a moderate increase in disposable income for many donors in 2021, we witnessed some return to their pre-pandemic giving priorities and support for the arts, culture and humanities organizations, etc. What does this mean for charities, including rescue missions, that saw record-breaking gifts during 2020?
KEY TAKEAWAY #2: Giving to human services organizations was not as high in 2021, compared with 2020.

Historical data shows that during times of national crisis, donors are more likely to give to human services organizations – aid & relief efforts, rescue missions, food banks, etc. However, as the Covid crisis persisted into multiple years and became less extraordinary an event, crisis fatigue set in and generosity was more modest.
When we examine giving data over 2 years, we see strong philanthropic growth – 11% or more for each subsector (5% or better when adjusted for inflation). Many individual human services organizations experienced continued growth in 2021 that was greater than the overall trend.
Although we are no longer in a period of "crisis giving," the events of 2020 did help introduce many donors to human services organizations they may never have given to previously. To reap that harvest, we must continue to be intentional about engaging donors and keeping them connected to the heart of our causes for years to come.
KEY TAKEAWAY #3: Individuals and foundations nearly exceeded record highs of charitable giving.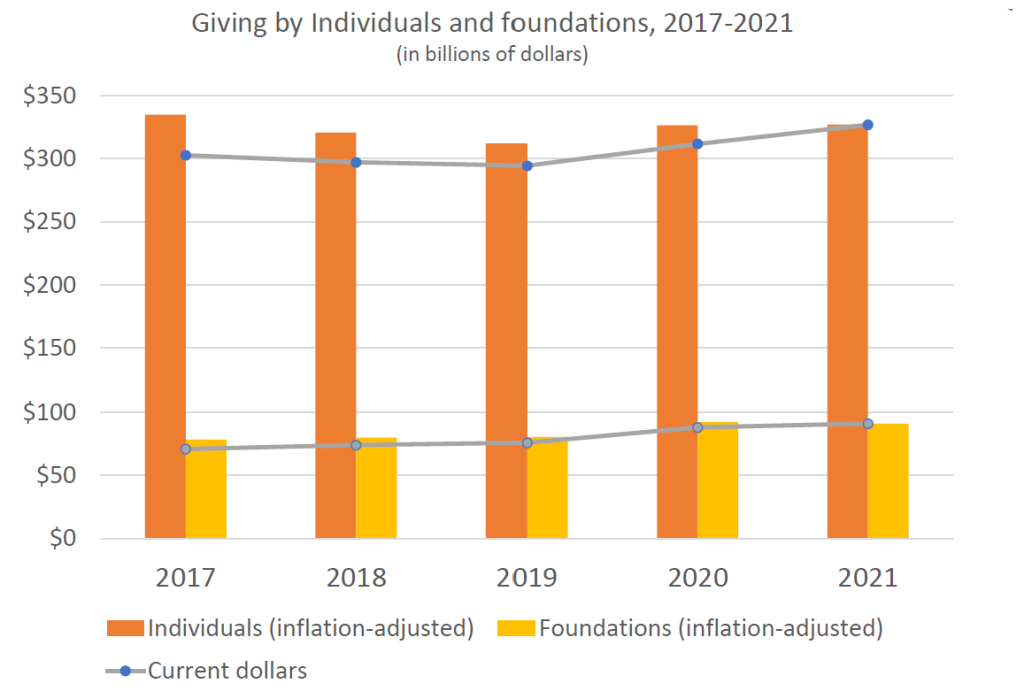 In 2021, 67% of all giving came from individuals. Even after adjusting for inflation, 2021 brought record levels of giving from individuals and foundations.
It is important to note that this percentage represents an increasing number of high networth donors, and a shrinking number of micro donors (those who gave gifts under $100). We saw more "mega gifts" from philanthropists like MacKenzie Scott and major donors who are comfortable with more sophisticated giving methods (Donor Advised Funds, cryptocurrency giving, gifts of appreciated stock and equities, etc.).
Donation-fueled organizations must devote energy to developing and communicating their unique value propositions that capture the minds and hearts of more equipped and sophisticated donors – while simultaneously cultivating mass and micro donors with a strategic, multi-channel and integrated approach. Now is the time to target your development outreaches and communications marketing to create donor journeys that connect with a diverse supporter base at all levels of generosity.
KEY TAKEAWAY #4: Communications technology plays an indispensable role in giving today.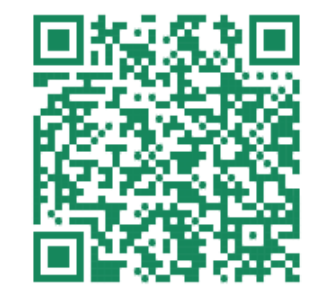 With the lockdowns and shelter-in-place orders of 2020, we moved more of our lives into the virtual space. Even as the world is reopening, there will be no putting that genie back into the bottle. Online communications platforms are key to connecting and therefore play an increasing role in donor engagement and the giving process.
Online giving represented 12% of total giving in 2021. This aligns with the group performance of a panel of 42 of BDI's rescue mission client partners. In a 3-year benchmark study (2019-2021) on digital giving, revenue in 2021 was lower than in 2020 but still far exceeded digital giving levels in 2019.
From digital media to email marketing, social media donor engagement to virtual events, digital fundraising is on the rise. Donors are becoming increasingly tech savvy – accelerated by the pandemic season of isolation. At BDI, alongside traditional direct marketing we anticipate integrating hybrid fundraising events that offer virtual and in-person options, and fundraising campaigns that seamlessly flow between digital and print components.
KEY TAKEAWAY #5: Flexibility and innovation are key to navigating the changes to come.
Over the last two years, nonprofits were blessed by generosity that grew in ways never expected. Even so, there's reason for even some concern. While dollars given were up, for the fourth consecutive year, giving by individuals (67%) has fallen below 70%. As such, we must adopt an investment mentality and lean harder into new donor acquisition efforts to find, engage and invite new supporters into the fold.
Today, there are also greater focuses on workplace giving, giving through Donor Advised Funds (which represents 6% of all giving – and is growing year-by-year), fewer restrictions on grants and increasing innovation that drives access to additional funding.
Lingering challenges for nonprofits are staff and talent acquisition, supply chain issues, increased costs and a cooling of donor confidence as markets turn and potential economic recession looms in the near future.
Even still, I believe that challenges like these will inspire positive innovations and a doubling-down of philanthropic and ministry commitments.
Final Thoughts
In the words of my Giving USA peers, "Every year we start at zero." While that may sound like staring up at a steep and intimidating mountain yet to be climbed, in reality, there are new and passionate partners to engage, exciting challenges to overcome and the profound privilege to connect opportunity with capacity for increased impact. Together, we get to release even more generosity each year… and impact lives for eternity.
In addition to undeterred faith and our resolved effort, adaptability will be key to our fundraising success. Just as our donors have adapted, so too must our nonprofit organizations and ministries. Our collective resiliency and the fruits of our labor adds to donors' trust and to their confidence in continuing to support our good work.
If you have any questions about these takeaways from this year's Giving USA report or want more information on fundraising trends to watch in 2022 and beyond, I invite you to send us an email. As we navigate these changing times together, may our eyes be fixed on the Lord as we pursue the "good works which God prepared in advance for us to do" (Ephesians 2:10, NIV).