Nonprofit Leaders! Use these 4 Tips to Build Your Personal Brand on LinkedIn
From Stephanie Tippitt, VP/Digital Strategy
Who remembers when LinkedIn was a small "Networking" site designed for business professionals? 🙋‍♀️
Over the past few years, LinkedIn has quickly become a major platform to advertise your organization, and showcase your personal brand.
In fact, a 2022 survey showed that 40% of B2B marketers indicated LinkedIn as the most effective channel for driving high-quality leads. And 77% of marketers say LinkedIn produces the best organic results across all Social Media channels.
Bottom line: LinkedIn is a core part of marketing, recruiting, and connecting with supporters.
That's why I want to share these 4 Tips that will help you build your personal brand on LinkedIn, and ultimately get more people to support your organization!
LinkedIn Tip #1: Optimize Your LinkedIn Headline
Let's start with the basics – your profile.
When someone visits your LinkedIn page, the first thing they'll see is your headline, and your photo.
A good LinkedIn photo…
Is friendly, professional, and approachable
Is sized correctly, at 400×400 pixels
Does not visually clash with your background banner image
A good LinkedIn headline…
Includes your value proposition
Is clear and confident
Uses your prospects' language and is tailored to your audience
Is keyword rich
When writing your headline, try to avoid cliches, being too general, bragging, or using verbiage that is difficult to understand. Here's are some examples: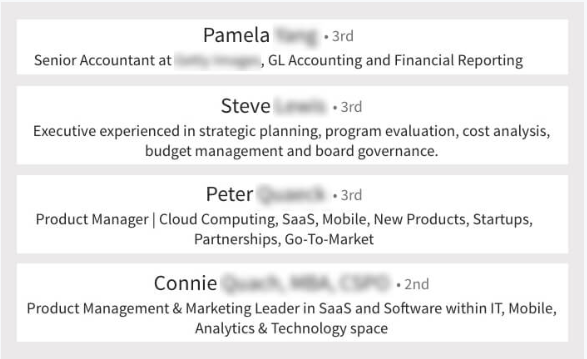 If you don't know where to start, use one of these formulas to help you write a strong headline:
(Title) at (Company) – Helping (Unique Selling Proposition)
(Title) | (Company) | (Unique Selling Proposition)
Title + Company + benefits of working with you | keywords related to your niche | personal touch |
Utilizing the last example listed, here is my headline: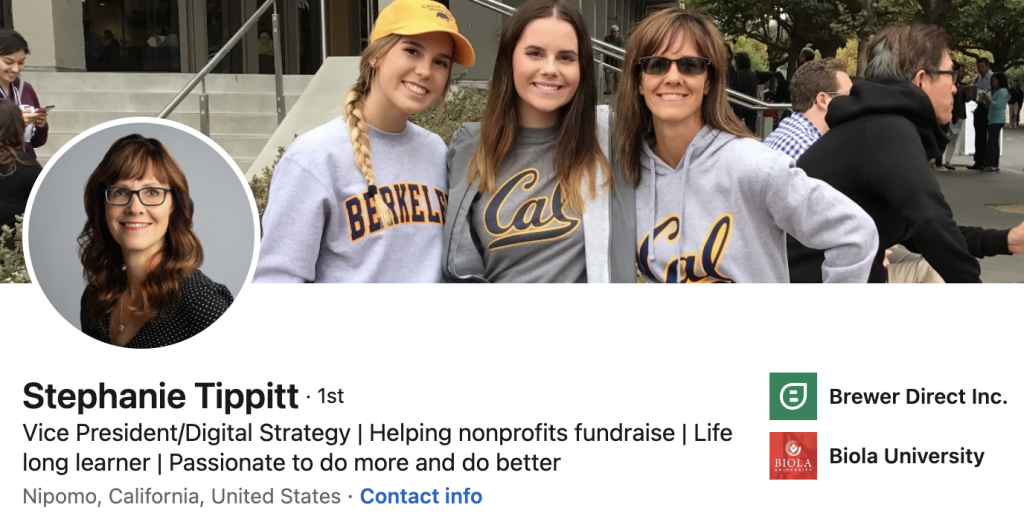 LinkedIn Tip #2: Post a variety of valuable content
In order to be successful on LinkedIn, your content needs to be diverse and applicable to your network. Ask yourself, what content would provide massive value and stand out on the page?
Your LinkedIn content should include…
Industry insights that highlight your expertise
Professional updates on your role and your organization
Reshares of industry-related content and posts from other leaders in your field
Reshares from your organization and staff
Occasional personal content that shows who you are!
The most important thing to remember when planning your content schedule is to post regularly. My biggest struggle for sure! According to a recent Forbes article, not only will posting regularly help you stay in the forefront of people's minds, but the LinkedIn algorithm rewards people who consistently post high-quality content.
LinkedIn Tip #3: Use LinkedIn to Interact with Others
Once you've established a flow of consistent content on your page, the next step is to interact with your network. This means liking, sharing, and commenting on other people's posts.
The more you interact with fellow leaders in your network, the more people will interact with you. Then you'll have LinkedIn's algorithm working in your favor!
There are a few ways you can use LinkedIn to engage your network. These methods can be especially helpful for nonprofits who are looking to boost post engagement, gain more supporters, and drive traffic to their website:
Giveaways for free e-books, checklists or worksheets to people who share your posts and follow your page.
LinkedIn Live Events and webinars
On-demand webinars and company videos
Virtual tours of your organization
Monthly video updates from your nonprofit's leadership staff
LinkedIn Tip #4: Encourage staff, board members, and volunteers to get on LinkedIn
A quick and effective way to organically grow your nonprofit's LinkedIn page is to have your supporters, staff members, and even board members participating in conversations and sharing your content organically. This will give your nonprofit massive promotional legs and your staff will learn countless new strategies to improve your organization.
In fact, Global NGO's Technology Report stated that 27% of nonprofits worldwide have an official policy to allow staff to work on their LinkedIn Profiles during work hours.
To start, give your staff a LinkedIn checklist to voluntarily follow to boost their LinkedIn profiles: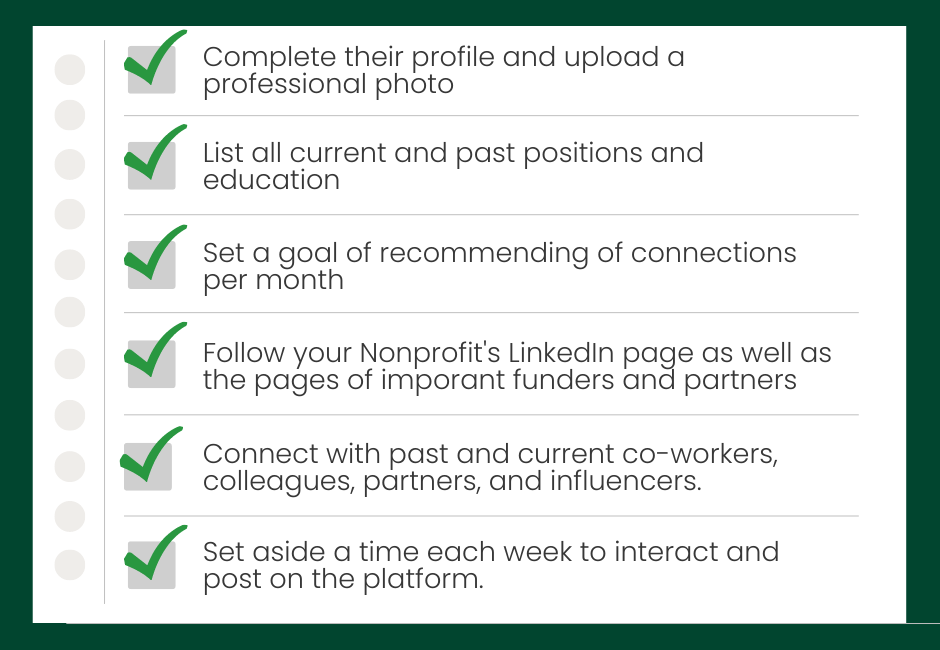 Final thoughts on Your Personal Brand on LinkedIn
Even though LinkedIn has so many unique features and useful tools for you and your organization, don't get overwhelmed by information overload! Take one step at a time, remembering that consistency and quality of content are the most important steps to success.
Building a strong LinkedIn profile takes time. I am still learning about LinkedIn, and will continue to develop my profile and build up a personal brand. As you continue to grow your profile, I'd love to connect with you! Follow me on LinkedIn.
If you want more information on how to run your nonprofit's LinkedIn page, enter your information below to receive BDI's FREE nonprofit Social Media Guide now! It includes tips on frequency, hashtags, image size, and it even includes examples on what type of content to post. Get BDI's Social Media 101 Guide now!
Complete the fields below for your FREE copy.
Click here to read more "Strategic Insights" on our website.