As the COVID-19 pandemic has opened up a variety of challenges for people across the country, it's also brought some surprising benefits. Opportunities for families and friends to become closer. Virtual events where people from different neighborhoods can interact and be informed. A new commitment to help our fellow neighbors as we grow stronger together.
Not surprisingly, with the social distancing measures in place, digital outreach simply exploded during the pandemic. Just take a look at the April 2020 statistics for nonprofits from Next After:
Overall web traffic was up 4.1% YOY
Overall online revenue was up 21.6% YOY
Overall donor conversions (meaning, a visit to your website resulted in a donation) have increased every month in 2020
Incredible growth!
But even as revenue and traffic is up, engagement is slightly down. So while donors may be online more, it doesn't necessarily mean they're more engaged with your nonprofit. Here are some ideas to keep your online engagement high with your current donors and potential new supporters:
DYNAMIC ADS
Right now, not only are there fewer marketing competitors on social media, but people are spending more time on their screens and developing new usage patterns. The ability to use dynamic ads – sets of copy and photos that Facebook mixes and matches in order to find the winning combo and optimize to the widest audience – can really help your message break through. Using dynamic ads is also a good way to speak to both current supporters and new prospects with relevant and authentic content through Facebook, YouTube, and Instagram. Users are looking for hope and a way they can help in these troubling times – give them ways to get involved!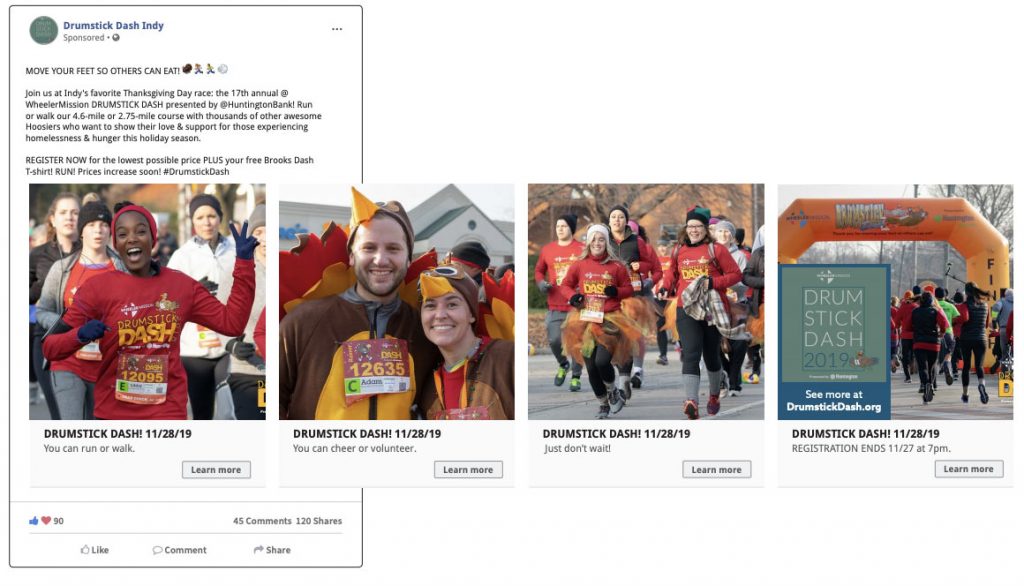 EMAILING
People are reading more emails during the quarantine as they seek new ways to stay engaged in the online community. Though you might face more competition in the inbox, there is also the potential for greater awareness and engagement. As many nonprofits are seeing an increase in response to their emails, be sure you're reminding your followers about your cause and how they can help. Use this time to craft genuine, appreciative emails to your donors to illustrate how their gifts are being used right now and how important their continued support is as we recover from this crisis.
INSTAGRAM LIVE, FACEBOOK LIVE AND QUICK VIDEOS
Instagram Live views have increased by 70% in the US over the past month as people staying at home have engaged more frequently on social media. Live component is especially powerful as people are missing their daily interactions at work or other public settings, so live content offers a new forum where social media users can interact in real-time with others. Authentic live video is a powerful way to share the hope coming from your organization and demonstrate how you're taking action to bring healing and comfort during these difficult days.
VIRTUAL VOLUNTEERING OPPORTUNITIES
Many people who have volunteered at your organization in the past – or who are looking to help for the first time – want to be useful, but just don't know how to get started. This is a chance for you to develop new volunteer opportunities such as virtual visits, neighbor-to-neighbor errands and grocery shopping for homebound folks. Virtual volunteering isn't new, but right now is a great opportunity to engage those who are new to it and help them learn more about it. (On a side note: Now is also the time to evaluate and institute policies about working remotely and cyber safety so you can provide staff and volunteers with secure, limited login and access to manage tasks from their homes.)
VIRTUAL EVENTS

As the pandemic has continued to necessitate social distancing, many organizations have had to cancel their live events. The smart ones have simply moved their events to a virtual platform – opening it up so anyone in the community can attend. BDI Sr. VP of Brewer Academy, Shellie Speer, had the opportunity to virtually partner alongside Bridgeport Rescue Mission in the planning and execution of their 12th annual Hearts of Hope Women's Event. They discussed many relevant topics, including the Mission's women's program, new facility and mobile kitchen. With a donated match of $150,000, the Bridgeport Rescue Mission raised half of their desired goal on the evening of the event, and they anticipate additional donations as the campaign continues!
Now more than ever, we must be able to adapt and embrace new trends to connect with each other as the world is changing around us. Digital communications offer countless opportunities for us to stay engaged with each other – even when we are physically distanced – and share hope during this time of isolation.
Is your organization doing all you can to keep your current donors committed to your cause, and reaching out to new friends to encourage them to join you? If you need ideas and inspiration, we're here to help!