Why time-tested strategies in direct mail still work.
Last week, I spoke with a client about exciting opportunities for adopting AI-generated imagery and other emerging technologies in their fundraising efforts. This is something BDI has been exploring, and the conversation got me thinking about how much noise there is about these new tools and platforms!
So while organizations are testing the use of technologies from artificial intelligence and bots, to TikTok and augmented reality – it's easy to overlook the enduring power of traditional, time-tested direct mail fundraising strategies.
Let's go back to basics and answer the question: In today's digital age, do these bounce-back offers – meal tickets, placemats, table cards – really help make your direct mail more successful?
First, I have to get something off of my chest: direct mail is not dead. Direct mail as a fundraising channel is far from dead. In fact, according to a study by Dunham and Company, 1 in 2 millennial donors say they expect mail at least once per month from charities they support. And in the same study, 1 out of 10 millennials say that they gave online in response to a direct mail appeal. Even if fewer people send checks in the mail, direct mail is as effective as ever, and bounce-backs are a proven strategy that can help boost your response rates.
Why are bounce-backs effective?
One of the key advantages of a bounce-back is its tangibility. Unlike digital ads or emails that can be easily ignored or deleted, a folded up Thanksgiving placemat in an envelope or sheet of Easter meal tickets demands attention. This physical engagement triggers a sense of curiosity and creates a more personal connection between the donor and your cause.

Bounce-backs also have a unique advantage when it comes to visibility. Left on a kitchen counter or dining table, they have the potential to be seen by multiple family members or roommates, creating a greater sense of engagement with your organization. For instance, a placemat with a coloring page on the back could prompt a parent or grandparent to involve their children in their charitable contributions. These materials act as reminders, sparking conversations and discussions around the cause, thus increasing the chances of garnering support.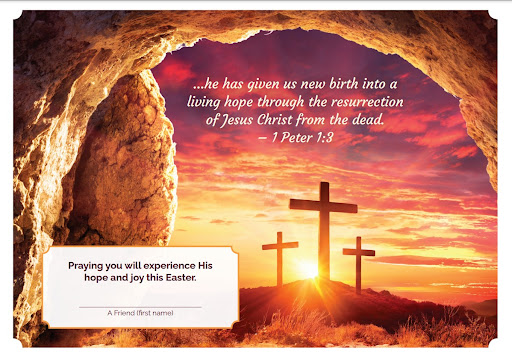 The bounce-back strategy provides a powerful incentive for donors to take action. By offering a benefit or perceived benefit for their contribution, a table card for a homeless guest, or signed placemat for a family in need creates a sense of reciprocity. Donors perceive that they are receiving something in return for their support, which increases the likelihood of engagement and donation. Simply put, it feels good to give! The psychological principle of reciprocity plays a crucial role in motivating individuals to participate and contribute to a cause.
While the world of digital marketing is exploding and evolving in a million different ways, direct mail fundraising strategies have consistently proven their efficacy over time. Bounce-back materials such as placemats, cards and meal tickets continue to be powerful tools in increasing response rates. Their tangibility, enhanced visibility and incentive-driven approach make them indispensable components of successful direct mail appeals.
As you navigate the ever-evolving fundraising landscape, don't overlook the enduring power of a bounce-back!