Testing and Results Are Our Guide
By David Stolberg, Strategist/Senior Account Director
A concern we hear from our ministry partners – and perhaps something you've felt – is that donors may feel annoyed at receiving too much direct mail… and it may lead them to stop giving. The BDI team is often asked, how much is too much when it comes to direct mail?
While we must honor requests from individuals who wish to receive fewer nonprofit mailings, it's crucial that we remain focused on our strategic fundraising goals. It's easy for us, as fundraisers, to feel like direct mail is too much because this is our world – we see and discuss each direct mail campaign many times before it arrives in the mailbox.
That's why BDI wants to address the question, how much is too much? Well, after testing and testing again…We strongly recommend about 25 pieces of mail per year to our mission partners.
Today, I want to share why we make this recommendation and how we arrived at this conclusion…
When it comes to direct mail, remember these words…
During my first week at BDI (in 2013), our company's founder, Randy Brewer, brought me on the road to visit a brand-new client. While we were there, Randy presented to the board, and someone asked if the Mission mailed too much. Even now, nearly 10 years later, I still parrot Randy's answer on the subject (although I'm far less eloquent than Randy)…
Randy held up a mail campaign and said, "The Mission is a church, and this mail campaign is the offering plate. Personally, you may give to your church at the beginning or end of the month, but even if you just gave, they still pass the plate to you."
His words were so profound… and still ring true today.
They remind us that the communications from your ministry not only provide an opportunity to give, but serve as inspiring reports of hope, of restoration, and a chance for the audience to be an important part of the work the Lord is blessing. In other words, your messages are also ministry.
When it comes to direct mail, look at the facts…
Sure, it's easy for me to say a Mission should mail their donors more, since I don't have to deal with the occasional donors who call and demand to receive less mail. But, ultimately, the best way to determine if you're sending too much direct mail is to look at the data to see whether a more aggressive mail strategy is effective.
Five years ago, BDI's strategic recommendation was to mail typical 0-24 month donors 17 times per year (12 main campaigns + 5 newsletters spread throughout the year).
Today, we recommend our Mission partners mail 25 times per year (a mixture of main campaigns, follow-up appeals and newsletters).
So, with the increased number of touchpoints, have donors turned away? Given less frequently? Given lower average gifts? Let's see what the data has to say about that…
Overall Retention Rates
RETENTION: You might assume that the more you asked donors to give, the more they would become annoyed, or stop giving – and as a result, there would be a drop in overall retention, right?
Well, surprise! As BDI has increased the total number of touchpoints over the last five years, we've seen retention increase by 6%!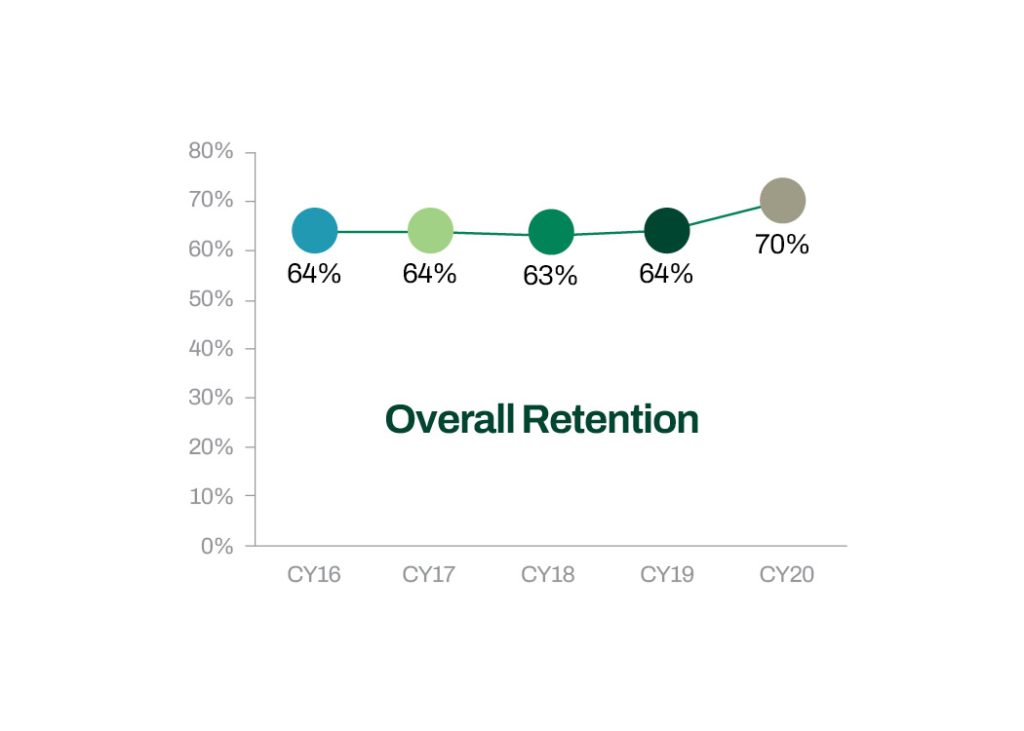 Gift Frequency
FREQUENCY: Gift frequency is the average number of gifts for each active donor per calendar year. We just established that there's been greater retention, but are donors giving more often? Yes… there's been a 3.4% increase in gift frequency!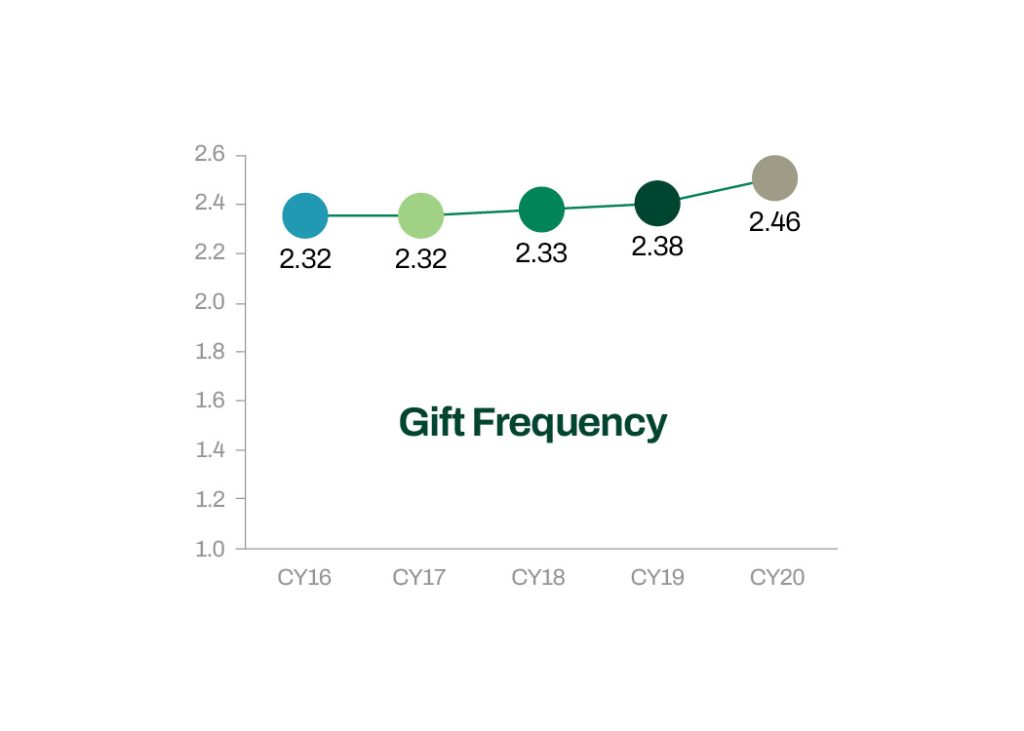 Average Gift
AVERAGE GIFT: Lastly, let's look at the average gift. If we retain more donors and they're giving more often, you would expect to see a drop in their average gift. On the contrary, we've seen a $13 increase in average gift!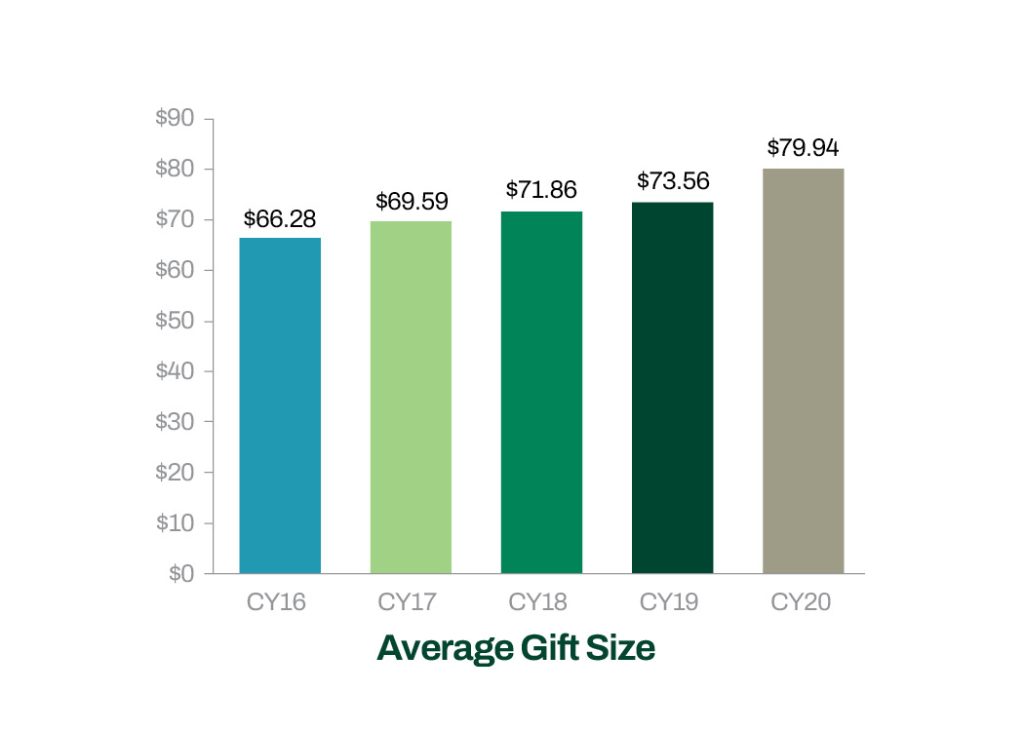 Conclusion
The results show that the more you ask, the more likely you are to retain more donors AND they'll give more frequently and at higher amounts.
Your donors give because they believe in the work you're doing in your community and want to be part of it. The last thing we should do when fundraising through direct mail is limit a donor's ability to support your nonprofit.
Donors will only give when they are asked… and we should encourage them to do so with confidence and open arms!