Get ready! 5 changes coming to Google Analytics
In digital marketing, things are always changing at a rapid-fire pace! This has been especially true over the past year, with a whirlwind of changes concerning data and privacy. These updates have affected how we communicate to donors online and track our digital marketing efforts (yes, iOS14 and iOS15 updates, I'm talking about you!).
If you use Google Analytics to track your website data, then you've probably been hearing about the next big development on the horizon – Google Analytics 4 (or GA4). This new version of Google Analytics will soon replace the current version. So what are the changes all about, and how will Google Analytics 4 impact your nonprofit marketing? Read on for the scoop!
Google Analytics 4 collects data differently
Google Analytics 4 is all about the future. More than an update, GA4 is an entirely new way of doing analytics. Developed to address many of the challenges digital marketers are facing – such as privacy concerns and the ability to work in a cookieless world – GA4 not only has a different look and feel, but the way data is collected is entirely different.
If you've been using Google Analytics, then you're used to seeing the data by sessions and pageviews (which is a collection of user interactions on your website within a given time frame tracked with cookies). This session-based data model is 15 years old and was developed before smartphones were widely used to access the internet.
The new GA4 is designed for mobile experiences like tapping, swiping and scrolling. This transition to being user-based and collecting data in the form of events will require a shift in how we think about the data collection in GA4. This is not an apples-to-apples update from the previous version.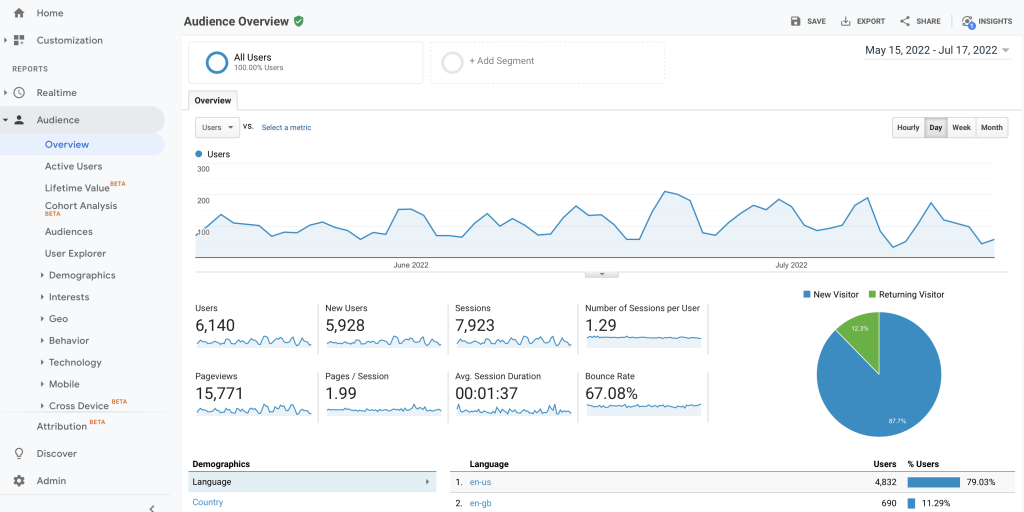 Reporting is different in Google Analytics 4
There's bad news and good news when it comes to reporting in Google Analytics 4… which could impact your nonprofit marketing and data analysis. With the current Google Analytics, there's an emphasis on pre-built reports. It's fairly easy and quick to navigate to a pre-built report and find the data you need.
GA4 has fewer pre-built reports and is less user-friendly for reporting. But it allows for greater ownership of website data through custom reporting templates. GA4 contains something called "Exploration," which will allow you to build more custom reports and get deeper into the data. It does take some time to build these custom reports and comes with a learning curve, but it will allow you to find deeper insights that aren't even possible with the current Google Analytics.
Advanced Attribution Models: Everything is data-driven
In Google Analytics, the Attribution Model is a set of rules used to identify and track gift conversions. In the current Google Analytics, the default Attribution Model across all reports has been Last Click (meaning that Google would only report on who gave a gift from the last place they clicked).
The new default Attribution Model in GA4 will be the Data-Driven Attribution Model. This uses machine learning algorithms to track conversions based on data for each conversion event. What does this mean for your nonprofit marketing strategy? With the option to choose your own attribution model, applied retroactively across all of your reports, you'll gain better insights into how different channels are performing.
Data Privacy: Preparing for a cookieless world
The current Google Analytics works by setting cookies on a user's browser when visiting your website. But as the world becomes more aware of privacy issues, users increasingly want to opt out of sharing their data. As a result, the current Google Analytics cannot completely report on everyone visiting a website.
People want more control over their data and how it is being used. GA4 protects users by not storing their IP addresses and relying on first-party cookies rather than third-party cookies, keeping compliant with privacy laws. GA4 then uses machine learning and modeling to fill in the gaps.
How can you prepare for Google Analytics 4?
The current Google Analytics will be retired in July 2023, meaning that you will no longer have access to that data. Here are two steps you can take now to get ready for the shift:
Set up a new Property in your Google Analytics account for GA4 (it can run concurrent with your current account). Since GA4 uses a different data model, the data will not be retroactive, so it's recommended to set up the account now. By next July 2023, you'll then have a full year of data flowing into GA4. (BDI clients, not to worry – we'll be setting that all up for you!)
Continue to rely on the current Google Analytics account for your website data through next year as Google is still making changes to refine GA4. But start familiarizing yourself with the GA4 interface now so you'll be ready to embrace the change next year.
Let's face it – change is hard! The current Google Analytics has been the standard for tracking and viewing website data for 15 years. Although GA4 is a big departure from past versions, it presents many opportunities to gather deeper insights on our digital marketing efforts.
As always, the BDI Digital Team is here to help navigate these changes with you! We'll be working to set up and implement everything on your behalf that is needed to transition to GA4. To learn more about Google Analytics 4 and how its features can help strengthen your nonprofit marketing program, please reach out to us today.
If this email was forwarded to you, please sign up to receive our newsletter so you stay updated on the latest trends and news in nonprofit marketing and fundraising.