Friends,
It's my solemn honor to share news today that our friend, colleague, and collaborator in Kingdom work, Randy W. Brewer is with Jesus. After a heroic and extended battle with a disease that threatened to take his voice, but in fact helped him to amplify it, Randy is at this moment restored and at peace.
While we naturally grieve together for our loss, Randy pressed for me in this moment to emphasize his gain – the achievement of his faith, the conclusion of his service, and the final chapter of his story – one that he shared so freely with us all.
We'll forever honor his friendship, forever respect his influence, and forever be the beneficiaries of his generosity.
Please join me in lifting a prayer of gratitude on high. We wish the Lord's hand of grace and peace beyond understanding for Randy's extended family that reaches to the very corners of the globe and for all who are hurting and missing him already.
With my own tears, I smile and vow to be continually inspired by Randy Brewer's commitment to be of service. May we all be as bold in laying our skills, time, and gifts at the feet of the Heavenly Father and daring to know and be known, to love and be loved by others.
Randy was wildly photogenic and we'll share many wonderful photos of him on his adventures as we honor him in the weeks to come. I include just a couple here because they speak volumes. Randy was transparent, authentic, and incredible at getting level with you, eye-to-eye. He was quick to light up with a smile as warm as the African sun.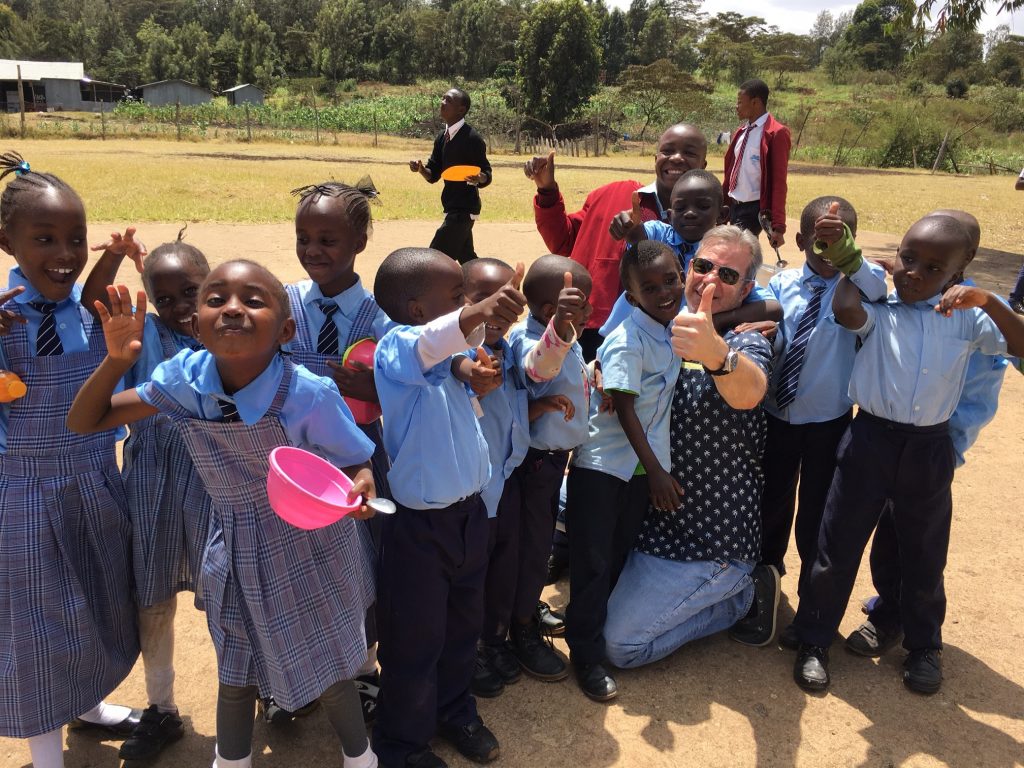 And he risked getting close up. Our joy and our sorrow today are a testament to being up close with him. We should all have the courage to do the same with one another.
"However, I consider my life worth nothing to me; my only aim is to finish the race and complete the task the Lord Jesus has given me—the task of testifying to the good news of God's grace."
Acts 20:24
Well done, good and faithful servant. Thank you, Brother.
Finally, for you – our extended family and partners – Randy provided the message that follows, straight from his heart:
Dear Brewer Direct Family,
It's been my greatest pleasure to serve with you through Brewer Direct. Thank you for your passion and hard work but mostly for your care and friendship.
The future of the agency is strong and getting stronger. The work is vital in the lives of needy individuals. It is Kingdom work and makes a difference. I urge you to continue serving knowing that your service is much more than work!
MT is a fine leader and he will guide you forward through these next years. There will be more change ahead. But change is good…and will enhance those served and those who serve. Hang on and enjoy the journey more than any destination.
If I've learned anything in these last several years, no matter what life throws at you, you can rise above, smile and be better through it all, if you choose. Please choose. I have often said these last years of my life were the best… no question I had my pains and suffering but in it, I found peace and joy. You were a part of that joy.
The board at Brewer Direct can be trusted. They are not empowered to manage… but to help guide. I feel confident you can trust them, along with the leadership team to take the agency to great new places.
And remember always, it is not about what you get but what you give that matters. Be generous. Always maintain a posture of open-handedness. Don't be a hoarder, even with your smiles, compliments, laughter and love. Give it away. That's what Jesus did in his life, death and even his resurrection. He gave it all away for you and for me.
My heart has been so full. The friendships I have enjoyed at Brewer Direct gave me more than I ever anticipated. Even as my medical condition worsened, I was surrounded with love and support from all of you and more.
Now as I fellowship with Jesus and the other saints before the throne of our father, I rest easy. I look forward to meeting you again with God.
All the best,
Randy Brewer
In the days and weeks to come we will surely be reflecting on Randy's impact and sharing praise for his dedication and sacrifice with those in our network of friends and colleagues.
I encourage you to be in fellowship and walk together through this experience.
Thank you for being an important part of this growing BDI family – a thriving organization founded by a righteous Kingdom Warrior, Randy Brewer, and shaped by your contribution and partnership each day.
In Him,
MT