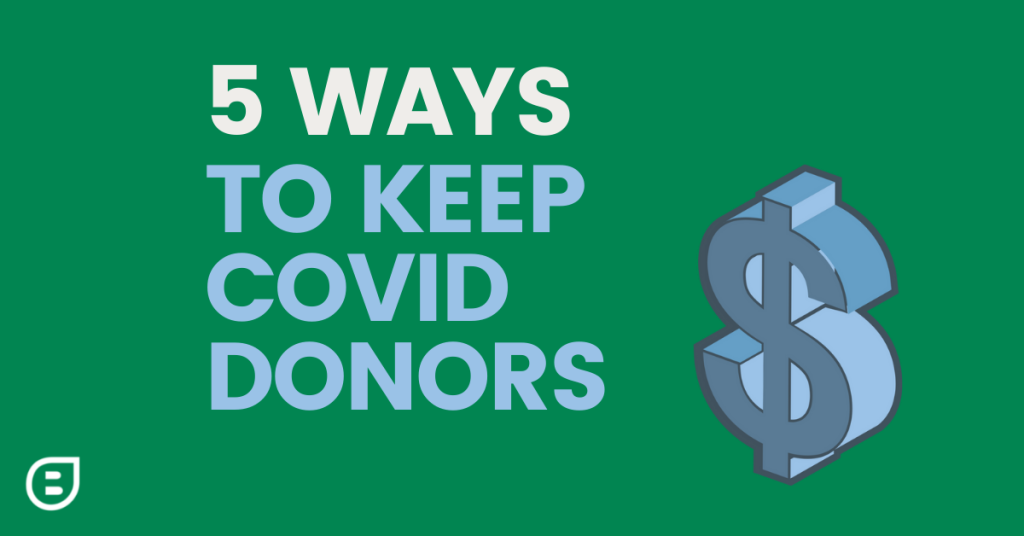 Like you – and everyone else in the nonprofit fundraising world – I've been eager to see how donors who gave for the first time during COVID would behave in subsequent months. In 2020, Missions experienced a flood of generosity unlike ever before. For BDI clients, giving was up 25% over 2019. Online giving specifically was up 96% YOY with 14.6% of total 2020 revenue given online. Wow!
The massive media coverage around COVID created an ongoing awareness campaign like no other that drove giving throughout 2020. New and reactivated donors poured in between March and December, producing a 55% increase in the number of new/reactivated donors gained in 2020 over 2019. We had the best fall acquisition season in years!
As you know, acquisition campaigns normally produce negative net income, so we were amazed to see our clients' fall acquisition campaigns generate a positive ROI. And that's even without taking into account online matchback revenue. Again… wow!
We are all wondering…
Will this giving continue?
Will COVID-acquired donors retain?
To help answer these questions, BDI conducted an analysis of COVID donors looking specifically at second gift conversion, as this metric is a key indicator of ongoing retention and long-term value.
So far the data looks very promising!
COVID donors are converting better than "regular" new donors.
Second gift conversion rates are higher for COVID new donors when compared to regular non-COVID donors at the same number of months following the initial gift. The same trend is seen for donors who reactivated during the pandemic.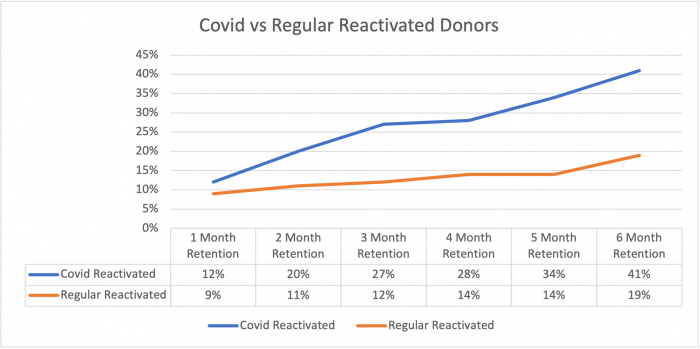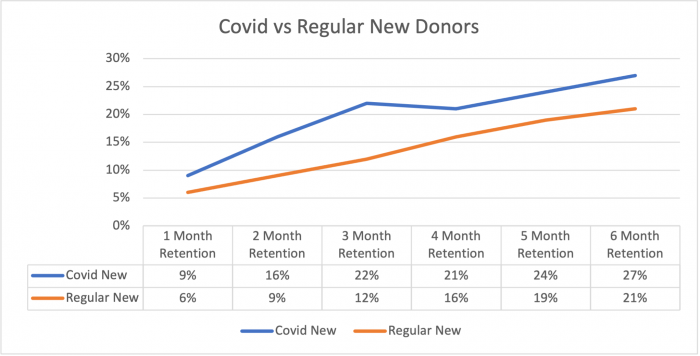 In this regard, COVID donors are not behaving like typical disaster-acquired donors. We hypothesize that this is because the pandemic is an ongoing event rather than a point-in-time moment when disaster strikes. The aforementioned media coverage kept the urgent need top of mind. Organizations that continued their fundraising efforts, and even incorporated COVID-related messaging, were well-positioned for success.
The other key difference in this situation is the need is local – right at my front door, in my town. I see it and feel it acutely, versus a disaster in a faraway place affecting other people.
Where do we go from here?
The prognosis for giving during 2022 is good. Active donor file size grew an average of 25% last year across all Missions BDI serves. This increase in donor quantity (if you mail to your new and reactivated donors) will buoy your cultivation campaign performance for 9-12 months.
Economic factors for Q1 2022 also indicate a positive outlook for giving. However, it's always a good idea to plan for uncertainty. With that in mind, set your fall revenue goals lower than 2020.
Some practical tips…
The pandemic and its economic fallout are still with us. Message to this reality and remind donors that the needs are greater than ever as so many are still trying to recover.
Define your strategy for non-converting new donors. Craft special copy to speak to these donors who stepped up last year and ask them to give again. Also, reach out and present your monthly giving program to them.
If your organization experienced an income windfall, reinvest in your development program: Expand new donor acquisition, increase your digital media spend, maybe hire another major gift officer.
This explosion of donor file growth may well be a once-in-a-millennia event (for obvious reasons, we hope it is). But take advantage of this opportunity and find out who your new donors are! Perform a wealth screening on these new donors to identify individuals for major gift officer portfolios.
If you were caught off-guard and maybe felt that your new donor onboarding strategy was not as awesome as it could be, take this moment to create or refine your Welcome Email Series and Welcome Mailing.
In the infamous words of Winston Churchill, "Never let a good crisis go to waste."
Get FREE resources to boost your fundraising
Want more free fundraising tips and news? Sign up to receive the latest fundraising trends and updates delivered to your inbox weekly!