Nonprofits need to TUNE IN to Donor Advised Funds
From Michael J. Tomlinson, CEO and President, BDI
A remarkable new study on Donor Advised Funds (DAFs) from the Giving Institute dropped recently: Giving USA Special Report, Donor-Advised Funds: New Insights.
As a member of the Giving Institute, I had the privilege of being "in the room" when this robust longitudinal study and analysis was released to the world. A great benefit of my participation has been gaining access to the Giving Institute's vast research – and those data scientists conducting it.
These resources provide our team at BDI with an opportunity to gaze downfield in philanthropy and assess where the trends will likely impact our own ministries and nonprofits – which we can then share with you.
In this case, there's a number of key touchpoints in this recent data on Donor Advised Funds for the nonprofits that BDI works alongside. (In fact, there's a case to be made that the trends exist among almost all sectors of nonprofit philanthropy.)
When things change so quickly, as they do today, it's more important than ever to carefully track trends that look poised to become fully integrated standards within our industry. Based on this special report, DAF grants have grown more than 100% in the last few years – and with such robust growth, we all need to pay attention.
Are you up to speed on Donor Advised Funds? Here now, I'll share key takeaways from the groundbreaking Giving Institute special report on Donor Advised Funds and the importance of these takeaways for your nonprofit – including a longer look downrange at newer data that might point to the shape of things to come for DAF giving.
Why Donor Advised Funds… and Why Now?
A few details about this report:
The Giving Institute's report was funded by the Giving USA Foundation and researched and written by the Lilly Family School of Philanthropy.
The study's dataset includes $74 billion in grant dollars from DAFs to more than 240,000 recipient nonprofit organizations.
The new study's findings are based on grant data from 87 DAF-sponsoring organizations for 2014 to 2018 (the latest period of time from which final IRS data is available).
In summary, this is the largest and most comprehensive study ever conducted on the subject of DAFs. It not only takes into account a four-year amalgamation of final IRS data, but represents 75% of all the DAF dollars in play within the philanthropic sector during those years.
This report couldn't have come at a more opportune time. According to the report, DAFs are now among the fastest-growing vehicles for charitable giving, but there's been a lack of research into the specific sectors benefiting most from their rapid growth. The questions used to conduct this research focused on identifying past and current trends in DAF giving.
As Laura MacDonald, CFRE, Chair of Giving USA Foundation and Principal and Founder of the Benefactor Group, puts it: "As dollars to and from Donor-Advised Funds continue to grow, there have been questions in the field about how to understand giving from this charitable vehicle. The goal of this special report is to shed new light on what types of organizations receive DAF grants and to provide insight into the role DAFs play in the philanthropic landscape."
Takeaways from Giving USA's Donor Advised Funds Report
Donor Advised Funds aren't new… but some nonprofit fundraisers may still feel slightly fuzzy on the mechanics. Simply put, DAFs are an investment vehicle where donors give assets to a DAF-sponsoring organization that administers and invests those funds. Donors "advise" the sponsoring organization to direct funds to specific, qualifying nonprofits.
As such, there are some trends in giving from DAFs that have emerged, particularly useful to the ministries and nonprofits BDI works alongside… but also for nonprofits in general.
Takeaway #1: DAF giving doubled between 2014 and 2018
Based on this special report, DAFs have exploded in use, doubling in the four years the Giving Institute report covers. In the study, total grants from DAFs increased from $14.82 billion in 2014 to $28.50 billion in 2018. And get this – between 2006 and 2019, the Giving Institute found that the value of DAF assets has jumped from around $31 billion to $141 billion. That's a 354% increase in value. Say it with me: WHOA.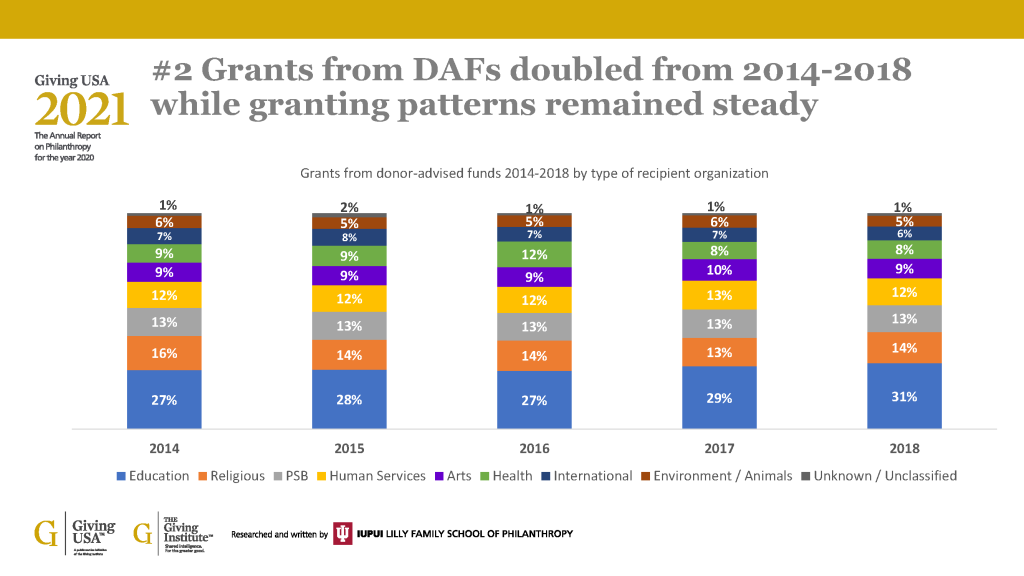 The really interesting part of this is that DAFs have doubled from 2014-2018 while other granting patterns remained steady. In other words, DAFs are becoming more popular, even while other kinds of grants aren't seeing decreases. DAFs are attracting a new crowd… but who?
In the past, these grants were favored and used primarily by older, major donors, but studies now shed light on the changing demographic utilizing DAFs. These days, the fastest growing subset of those giving through DAFs are known as "geriatric millennials" – those born between 1980 and 1985, just entering their late 30s and early 40s.
Perhaps that's surprising. But digging deeper into the giving patterns of geriatric millennials, it starts to make sense.
Firstly, more than ever, this age group is pursuing meaningful ways to contribute to social causes. In a focus study that BDI conducted with millennial donors, we learned that they tend to give larger and/or more regular gifts to create more impact at the nonprofits they support. Pair that ideology with having, in general, greater access and inclination to invest and you may start to understand why DAFs have caught their attention.
Secondly, it makes sense in light of their desire to express generosity to causes, but not necessarily specific organizations. In 2017, Morgan Stanley's Institute for Sustainable Investing surveyed active individual investors and found that 86% of millennials are interested in investing in funds that pursue positive social and/or environmental impact. Because of this inclination, DAFs are an attractive charitable option: they make it easy for millennials to support their desired charitable causes without having to spend hours researching specific charities.
What does that mean for you? If your organization is not yet tracking and leveraging DAF giving, you may be ignoring a rapidly growing giving vehicle – and the mobilized, younger demographic that is leading the charge using these funds as an outlet for charitable giving.
Takeaway #2: 3 nonprofit sectors attracted the most DAF grant dollars
According to the report, Education, Religion and Public-Society Benefit organizations attracted the most DAF grant dollars between 2014 to 2018. If you look at percentages in the chart below, you'll see that these three sectors encompass nearly 60% of the whole of DAF giving.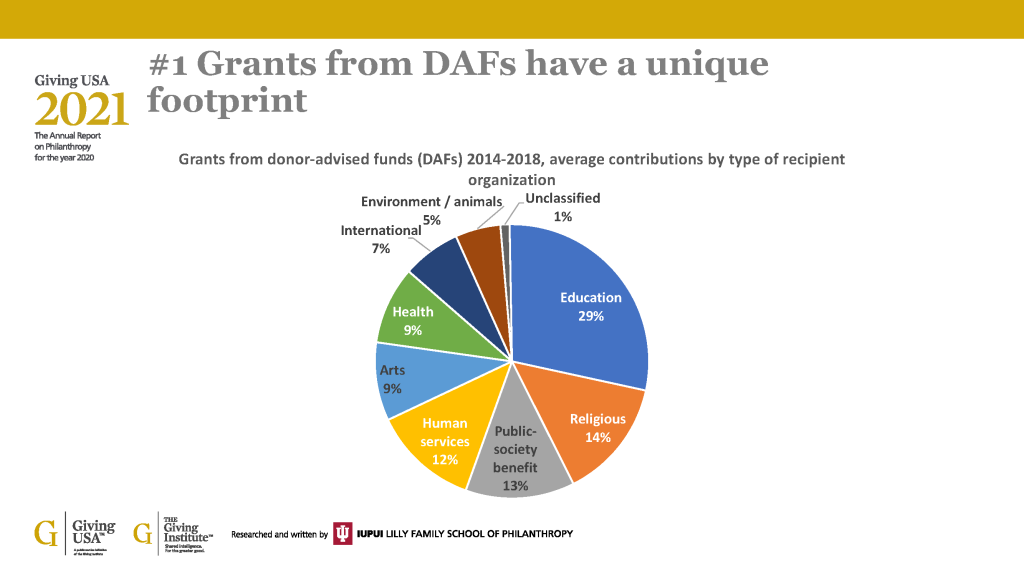 This is a critical insight, because looking at the total charitable contributions between 2014-2018, the categories are very different. For example, 31% of total charitable giving was directed to nonprofits categorized as Religion, while only 14% to Education.
Yes, you read that right – the numbers for these sectors are a near perfect reversal. 29% of DAFs dollars are dedicated to education, but makes up only 14% of total charitable giving. Meanwhile, religious organizations attract just 14% of DAF giving, but 31% of all charitable giving.
Here's the important takeaway for nonprofits in all sectors:
We must take an active role in supporting education about DAFs so that our vital nonprofits and ministries can participate in the wave of growth in Donor Advised Funds contributions.
Even with a slighter percentage of the total charitable giving pie, they seem to be eagerly pursuing – and acquiring – a higher percentage of DAF dollars. The study seems to indicate that education has unlocked this giving vehicle with an enthusiasm and success not yet numerically apparent in other sectors.
The opportunity for increased DAF giving is a wellspring of waiting dollars that all nonprofits can tap into with a dedicated effort. When I see a sector like Religion, with such a large percentage of total charitable giving, and yet, a significantly smaller portion of DAF givers… I can only imagine what untapped potential already exists with their donors. When should religious nonprofits tap into it? This study suggests – It should be right now.
What does that mean for you? There's a wealth of capacity-building resources waiting to be unlocked for DAF giving when it comes to nonprofit donors. If you're not already, start working on a strategic plan to raise the topic with donors. Many of your donors are thinking about – or already funding – a DAF. If you need to get started, check out this extremely helpful primer by BDI's resident Donor Advised Fund enthusiast, Account Strategist Micah Mann.
Takeaway #3: New patterns are emerging in 2020 and beyond
Of course, there's a plot twist in the story of Donor Advised Funds. And it's easy to guess: 2020.
The Giving USA study reports on some emerging trends from 2019-2020 that may or may not surprise you, given the historic upheaval experienced:
● DAF grant dollar amounts grew by 39%
● DAF giving to Human Services grew 138%, becoming 27% of total DAF contributions
● DAF giving to Public-Society Benefit organizations doubled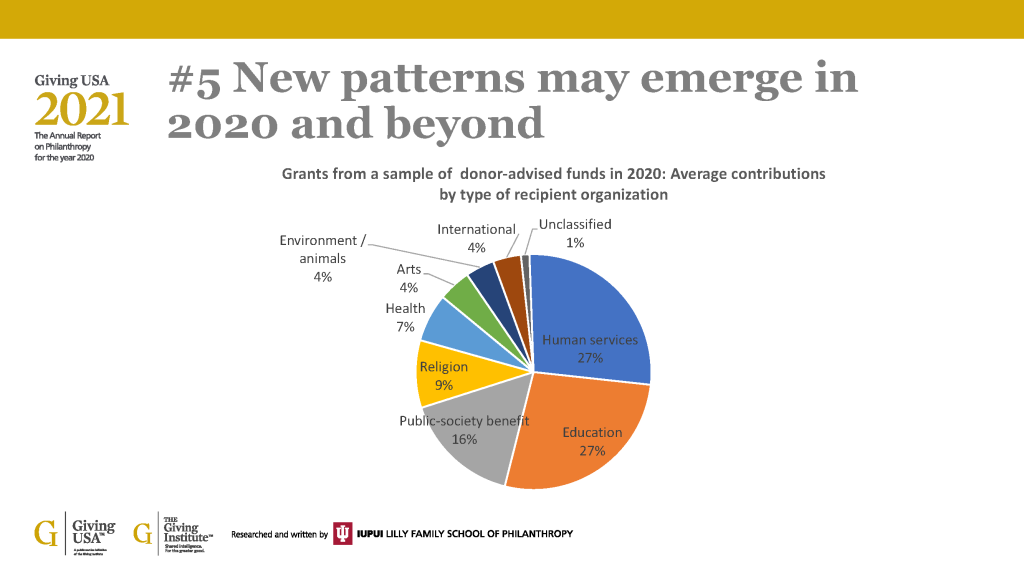 As I said before, our team at BDI isn't in the business of chasing trends; but trendspotting can often be a helpful practice in anticipating what will happen next. We'll be watching closely to see if these granting patterns remain in effect in 2021 and beyond.
One additional consideration: As the mechanisms of philanthropy continue to evolve and change with new tax law regulations, the effect may have a restrictive impact on our day-to-day fundraising. Right now, DAFs do not fall under these same tax law restrictions as do other kinds of charitable giving and may open new pathways for regular giving. I won't go into too much detail about that here, but suffice to say: it's another important reason to make it a priority to promote DAF giving to your organization.
What does it mean for you? For now, just hold on to the fact that DAF giving patterns shifted in response to the unprecedented need of a single year – and as with charitable giving in general, we'll continue to assess whether these donors remain partners with these organizations.
The Bottom Line: We need to "Make Friends" with Donor Advised Funds
Let me close in much the way I started: I hope you're learning about, tracking with, and raising your practical familiarity with Donor Advised Funds. Based on Giving Institute's groundbreaking research, DAFs are playing an increasingly larger role in philanthropy.
If you're interested, I'd encourage you to read the report for yourself. Amir Pasic, Ph.D., the Eugene R. Tempel dean of the school, stresses its value: "This study provides the types of fresh insights from large-scale, quantitative research that can help fundraisers, nonprofit professionals, donors, policy makers and scholars better understand the various ways DAFs interact with the philanthropic sector."
Your donors are most certainly interested, if not already using DAFs to support their preferred charitable causes – and on average, these donors are skewing younger and – in some cases – are even more engaged with your cause. These are all bright spots dotting the philanthropic landscape, and these bright spots couldn't come at a more opportune time for our industry.