Are your best donors acquired online or offline? The answer may surprise you!
You understand the importance of maintaining the relationship with your donors long after their first gift. But do you know where to find your organization's giving MVPs, the ones who'll have the highest lifetime value?
To answer this question, Brewer Direct partnered with market researcher Analytical Ones to discover what factors influence a donor's lifetime value, and what role channel migration might play.
Keep reading to learn where you can find your best donors, and bulk up your file with a whole team of MVPs!
The Study
With a sample size of six Rescue Mission clients, three match-back revenue factors were taken into consideration:
Organization size (small / large)
Geography / region of the organization (West / Midwest / East)
Seasonality (Jan / Mar / May / Oct / Nov / Year End)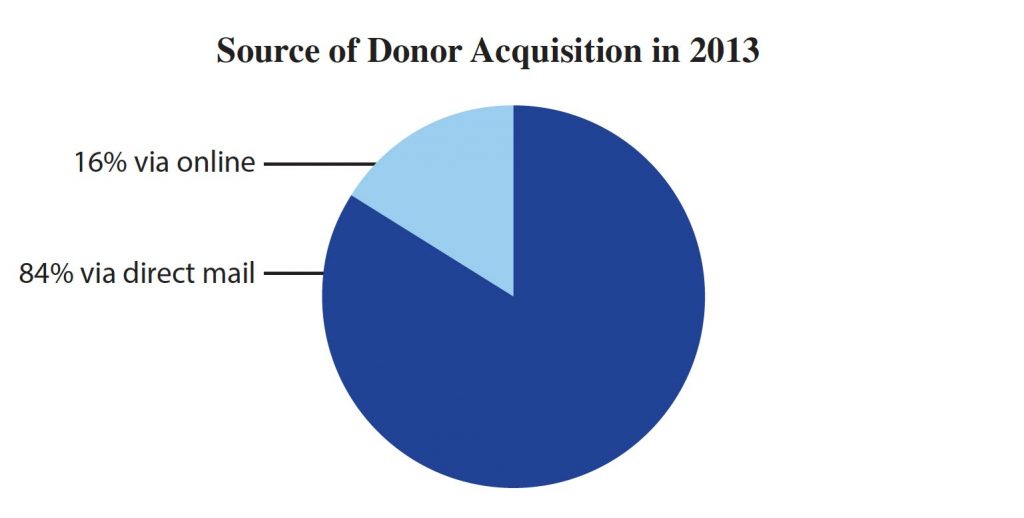 Single vs. Multi-Channel Donors
One hypothesis the study examined is whether multi-channel donors are more valuable than single channel donors over a lifetime.
Surprisingly, for 4 out of 5 clients in this study, 5-year LTV was highest for online-acquired donors who continue to give online – in other words, single-channel donors. (See graphic.)
Overall, channel migration is rare. Among all donors analyzed in this study, only 3.75% converted to multi-channel giving.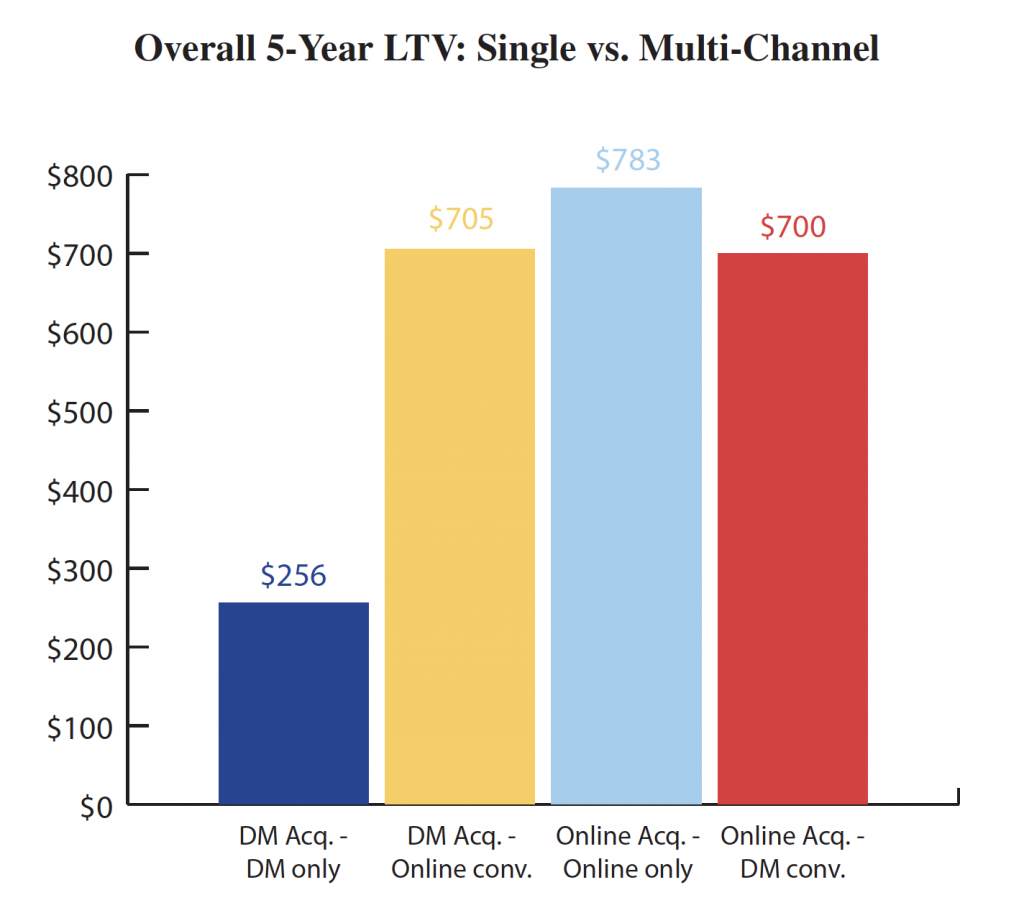 THE TAKEAWAY:
Donors typically stay giving in the channel in which they are acquired. However, online-acquired donors appear more likely to migrate channels than donors acquired from direct mail.
Gift Size & Frequency
A key finding of this study is that donors with similar first gift sizes have more similar LTVs, regardless of acquisition channel. (See graphic.)
Looking at gift frequency, donors acquired via direct mail who convert to giving online appeared to give more frequent, smaller gifts. Online-acquired donors gave less frequent but larger gifts.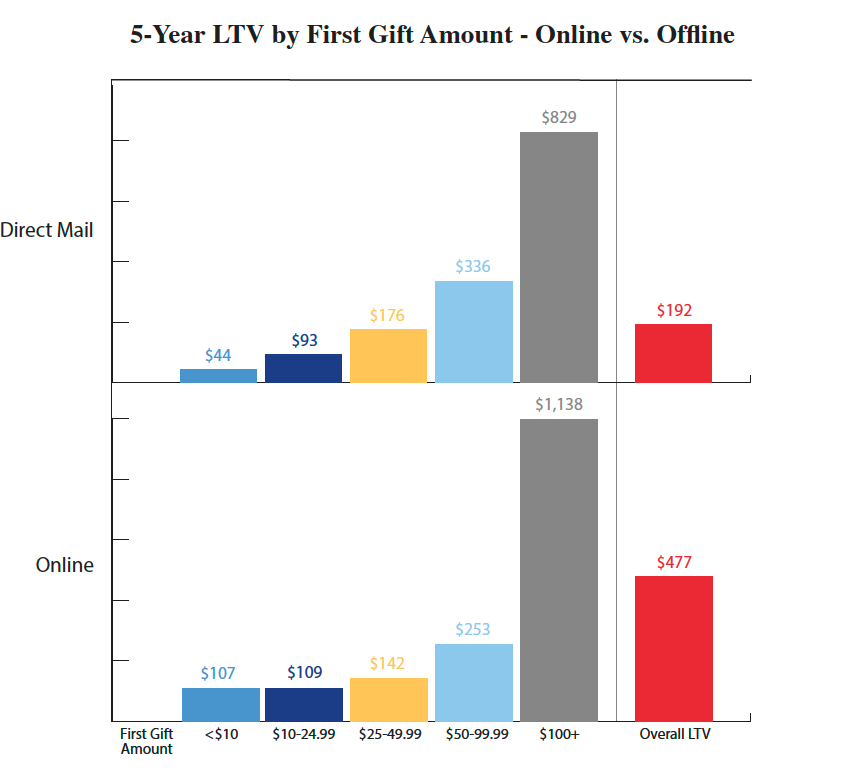 THE TAKEAWAY
Regardless of their acquisition channel, donors with similar first gift sizes have similar LTVs, so it's important to hit that "sweet spot" with your first ask. Reach high – but not too high that you cause them to abandon their gift.
Online Giving: The Real MVP
Although we have seen that much of the variation in LTV is driven by first gift size rather than acquisition channel, donors who give online typically have the highest lifetime value. This is true whether the donor is acquired through direct mail and converts or they are acquired online and stay in the channel.
Several explanations for online givers' higher LTV are possible:
Donors who give online are typically more affluent, having more money to give.
The psychology of spending – people are more likely to spend more when paying with a credit card (e.g., online gift), than they would using cash or writing a check.
The suggested first gift starts higher online than it does in direct mail acquisition.
THE TAKEAWAY
Donors are more comfortable being asked for more and giving more online, so online acquisition strategies should be a key component of an organization's multi-channel fundraising approach. With more donors being acquired via direct mail, those who can be converted to online giving, while rare, prove especially valuable.
The Final Takeaway
Although direct mail is still the channel where the majority of donors are being acquired, the importance of online acquisition and cultivation strategies cannot be overlooked.
Generally speaking, multi-channel donors are most valuable. However, it's important to note that channel migration is rare. A bigger driver of LTV is first gift size: donors acquired in different channels but who give similar first gifts will have similar LTVs.
Still, online donors prove to be most valuable, with the highest LTV seen in online-acquired donors who continue to give online. And online-acquired donors are more likely to give across channels, although their quantity is low (only 9.8%, or 296 online-acquired donors, converted to multi-channel in this study).
With these findings in mind, it is critical to balance donor volume with donor value when it comes to acquisition. Direct mail is still the most cost-effective channel to acquire a high quantity of donors quickly. The volume of online-acquired donors continues to be lower than direct mail, although these donors promise a higher lifetime value.
In order to maintain a healthy file, it is therefore important to balance the goals of high volume and high value when planning your new donor acquisition strategy. Mindfully distributing your acquisition budget between online and offline giving channels is essential to building your team of donor MVPs.
Your donor MVPs are out there… let's find them now!
Discover how Brewer Direct can help you develop a multi-channel fundraising strategy that looks to the future – from your donors' first gifts to a lifetime of their heartfelt support.
Want more? For this month's "Need to Read" from MT on Faithful people "Show Up" big time when it matters most, click here.