Get your staff excited for your next event with these 5 event marketing tips!
By Katrina Williams, Sr. Marketing Manager
They say that company events are like anchovies… you either love them or hate them.
To some employees, company events are a rare treat. They're an opportunity to create deeper relationships, make lasting memories and even fix some issues that might exist amongst a team.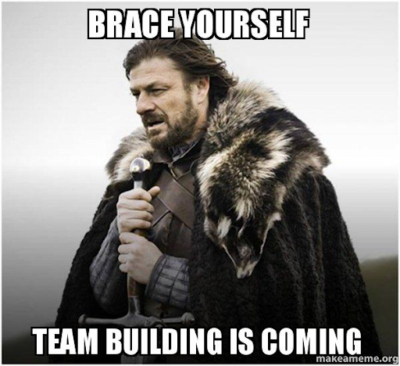 To others, they're a disgusting, smelly fish. 😷 They're a week's worth of social anxiety that only amounts to a waste of company time and resources. So what are some ways you can market for company events to make sure your employees are engaged?
Despite what side you're on, team events, corporate conferences and company-wide retreats have proven to be an effective way to unite teams, launch major initiatives and spur innovative and strategic ideas within organizations.
In fact, a recent study showed that 81% of millennial employees think they work more effectively when they have face-to-face time with their coworkers! Gathering your team in person is a great value to their productivity and relationships with one another.
As marketers, our job is to advertise both company and industry-wide events to generate interest and create "buzz" before the event even begins. Our job is to market company events in such a way that converts the anchovy haters into anchovy lovers (or at least into people who are willing to try it with an open mind.)
That's why I want to share these 5 tips on how to effectively market for company events in both for-profit and nonprofit organizations:
1. Establish event goals with measurable ROI 📈
A few months ago, the BDI team gathered together for our annual company conference, BDI Recharge. To the BDI staff, this annual gathering is one of the only times all year that the entire team is together in person. In other words… this event is a BIG deal, and ultimately worth the time and resources it takes to organize…
A recent study revealed that many businesses are not placing importance on ROI when it comes to events, and some are not measuring conference ROI at all. My take? Marketers who don't value event ROI are either leaving money on the table, or allocating funds in the wrong places.
In today's world of economic turbulence, it's essential that your leadership team establishes event goals that are tied to measurable ROI. Without it, how do you expect to show that an event is "worth it" when looking at the bottom line on your budget?
Define your event objectives.
Because company-wide events are not created to collect leads or meet new partners like industry-wide events, it can be difficult to measure ROI. But even if company event objectives are "softer" goals that don't immediately benefit your bottom line, your team can still determine top ROI qualifiers for the event to see if it meets its goals.
Some of these may include…
Getting staff buy-in to a major company initiative
Fixing a structural or relational problem amongst a team
Establishing new processes or programs to save your team time and resources
Relationship and trust building
Brand awareness and understanding
Setting new goals and defining objectives across teams
One of the best ways to measure the success of "soft" event objectives like these is to send out an anonymous post-event survey to employees. You can also use this to ask for suggestions on things to change or keep for your next event.
2. Pick an event theme 🤔
Did you ever go to summer camp as a teenager? When thinking back to my time at camp, I don't remember the specific lessons or discussions that took place, but I remember the theme! The same is true for company conferences.
A strong event theme is one that will be remembered by your employees long after the event is over – and is essential for marketing company events. It's memorable, on brand with your organization and holds meaning that supports the key messages and goals of the event.
So before picking a theme, make sure to talk with your leadership team about their vision and desired outcomes from the event. This conversation will be the guiding light to solidifying a theme and creating event branding.
3. Create event branding & marketing materials 🎨
Once you've established a solid event theme, it's time to develop unique event branding that can be used to market your company event throughout your marketing materials.
Having branding specifically for your event will set it apart from feeling like "just another day at the office" to your employees. It's also an opportunity to establish the tone of the event and generate pre-event buzz amongst your staff.
This includes:
Branded event swag such as t-shirts, stickers and notebooks
Branded event signs to provide directions and welcome employees
A branded agenda handout or mobile app so your employees know what's coming next
Branded event emails and announcements with copy that ties into the event theme
A branded PowerPoint template for your keynote and session speakers
For example, here's the first slide of the presentation template from BDI's 2022 company conference, BDI Recharge. While this branding is unique to the event itself, it still holds true to the look and feel of BDI's overall brand:
Fun fact: Presentations with visuals are 43% more effective for audience retainment because imagery is processed by your brain 60,000 times faster than plain text. This is why accurate branding imagery is such an important element to employees retaining the key messaging from your event.
4. Get employee buy-in prior to the event 🤝
For company-wide conferences and retreats, employee buy-in is the #1 way to generate excitement about the event. With these internal marketing strategies, you can give your employees a voice in your event, and generate "buzz" amongst your staff:
Create a pre-event survey to engage employees in fun details like lunch options, movie night choices or even the topics they are most interested in.
Share a company-wide music playlist that your team can contribute to prior to your event. BDI recently created a BDI Recharge playlist to play in the background at our annual company conference, and employees loved hearing "their song" come on.
Create a hashtag for the event and encourage employees to post work-appropriate photos to their social media channels with your event hashtag.
Host a pre-event gathering the evening before your event begins to generate excitement about what's to come and to welcome your out-of-town employees.
5. Create an online hub for your event 💻
If you're part of an organization of 100+ individuals, consider creating an event-specific landing page or a company Facebook page specifically for your event. This is an event team's hub for important updates, event details and engagement techniques like your #hashtags or event playlist! This page could include…
A "hype" video from last year's company conference
An introduction of the event theme, and how it incorporates your overall event goals
An overview of the agenda or important events during the conference
Link to your pre- and post-event surveys
Social links for employees to share about the event
A form with any questions about the event that goes to a separate inbox just for your event team
Conclusion: An important note about employee expectations
It's important that your event marketing is honest and accurate about what the event is going to be. Make sure to be transparent about your agenda and accurately tell employees what to expect. You don't want to promise Disneyland and then take everyone miniature golfing!
Ultimately, you know your staff best when it comes to marketing tactics that will get them engaged and excited about your event. So don't be afraid to brainstorm event ideas with your team, and feel free to reach out to our marketing department at BDI by emailing me with any event marketing questions you might have!
Click here to read more "Creativity & Marketing" on our website.