Ask these 10 questions to decide!
By Stephanie Tippitt, VP/Digital Strategy
While I'm a self-admitted digital nerd, passionate about all things digital, I especially love creating new websites. Why? Because having a fundraising-optimized website is the CORE of a successful digital marketing program. Think about it: All roads lead visitors back to your website to take action. If a potential supporter lands on your site and can't take that action – whether it's finding info or making a gift – your program may be in trouble.
So an up-to-date, easy-to-use website is important. But because of how quickly our online world changes, websites also come with an expiration date. So… how do you know when it's time to rebuild the website?
It's time to rebuild your website when…
The answer to that very important question is… it depends! A website's longevity partially depends on how thorough the last build was and if it's been maintained on a regular basis. But often, the site will start to show wear-and-tear after 4 to 5 years. But here's the best answer: It's time to rebuild when the site no longer supports your fundraising strategy.
Pro Tip: Your site has several audiences: donors, those seeking help, volunteers and corporate sponsors to name a few. Think of 2 or 3 questions they might need answered on your site and give those questions to a friend. Ask them to find the answers and track how long it took them to find it. What was their experience?
The first quarter is a good time of year to do an audit of your website because, often, this is a slower time in your fundraising calendar. A plan can be created to have the new site ready before your heavy fall fundraising season. But first, let's walk through the questions to ask when you're pondering a website rebuild.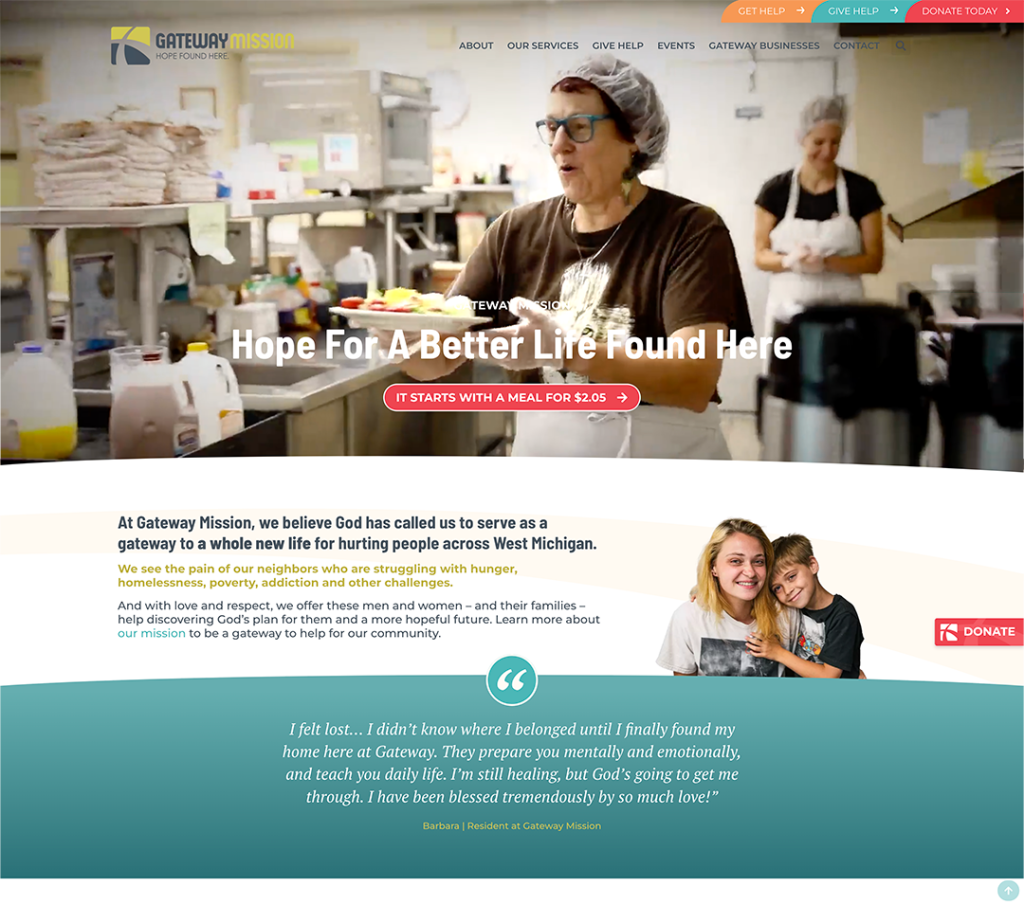 10 questions when considering a website rebuild
When you're reviewing your website, you may immediately notice things that still work great… and things that seem a little outdated or clunky. Categorize these observations into external and internal:
EXTERNAL
Does the site visually represent your brand?
Does the site quickly inform the visitor within a few seconds about who you are, who you serve and what you do?
Is the content on your site current, well-organized and easy to find?
Do the website and donation page show well on mobile and on modern browsers?
Does the site have all the functionality to support your digital strategy?
INTERNAL
Is the site easy to update content by your internal team, including adding new pages or changing the content structure?
Is the site secure, and how is the load time? Google is cracking down on site speed even more this year!
Does your site and donation page support campaign tracking?
How is the SEO, and can you update it?
Have you checked out your Google Analytics account to see what you can learn: site traffic patterns, referrals and traffic sources, bounce rate, site speed, site search, returning vs. new visitors, and more?
Pro Tip: During the website evaluation period, be sure to also look at your donation page. Make a test donation on both your desktop and phone. Was it easy? Did you receive an instant thank you receipt? Did your donation get tracked to a campaign source code?
So it's time to rebuild your website… now what?
If you decide it is time to rebuild the website, you can take these next steps:
Make a short list of the features you want on the next site.
What do you love about your site?
What needs to change or improve?
What are examples of other sites you like?
Create a budget. And remember, this is the hub of your digital marketing program and should last 4 to 5 years.
Start reviewing your site content with your internal teams.
Ready to start the process of building a new website? We can walk you through a 4-step path to your new site. These steps include content review and update, site organization and structure, website design and website development. Our team can help you create a stronger, fundraising-focused website that is ready for the busy fall season!
Email me if you're interested in learning more about this process and how to start. If you've learned anything about me in this article, it's that this self-admitted digital nerd would be ecstatic to talk with you about whether it might be time to rebuild your website.
Coming up soon… Google Analytics 4 and the next generation of Google Analytics. Watch for it!