BY ANGELLA HUBBERT, DIRECTOR OF DATA MANAGEMENT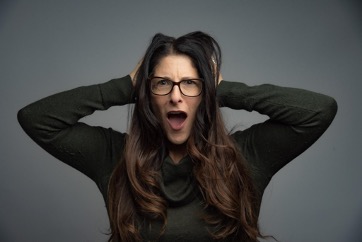 This is my profile picture, and it makes me laugh! It reminds me how crazy, fast-paced, detailed and totally exhilarating the Acquisition season really is.
And why is that, you may ask? Because it's that most wonderful time of the year when our clients look to connect with potential donors and re-engage with donors who have fallen off the radar through acquisition mailings. My favorite part of all this hard work is when the donations start rolling in!
For me and my team of Data Stars, it's all about getting the complete and full data history from our clients. There are many extra files needed that help with suppression and audiences of potential donors. The team spends countless hours validating the year-over-year data, counts and trends… all to ensure data is accurate before entering "merge purge" time! That's when all the rental and donor lists are compiled so we can double and triple check that we're not mailing to any current donors. Plus, our merge-purge helps identify that audience of lapsed donors with whom we're very eager to re-engage.
Speaking of, I wanted to briefly answer a question about acquisition that our Data Stars get a lot at this time of year: What's the difference between Do Not Prospect and No Mail?
We know that these audience segments have confused many, including experienced development teams! So here's the answer:
Do Not Prospect (DNP): a potential prospect from a rental file who, in previous years, has requested not to be solicited to. A Do Not Prospect record is often someone who absolutely insists that they receive no mail from your Rescue Mission – they may have called, written, emailed, even threatened legal action. We recommend that you add these names to Do Not Prospect. This list should carry over year after year.
No Mail (NM): A No Mail Donor is an actual donor record that lives in your database who has a preference of No Mail. There are many cases when a No Mail donor who is also marked as lapsed and receives acquisition mailings gives again. Perhaps they were flagged as No Mail many years ago. If that's the case, we recommend taking this as an opportunity to re-engage them by removing their name and only mailing to the addressee as "Dear Friend."
Simply put, Do Not Prospect and No Mail are two very different audiences!
Other easy ways to remember the difference:
DNP is for non-donors.
NM are current or previous donors to the Rescue Mission.
DNP is a suppression file.
NM is a mail file that goes to any donor address that hasn't given a gift in over three years.
And lastly, remember that these two files do not overlap, so choose one or the other.
Despite the craziness of acquisition season, it's all so worthwhile when we come out the other side with lists ready to mail and donations ready to start flowing to our Rescue Mission clients! I love hearing our clients' stories about the piles of mail coming in each day and how they have to hustle to keep up with processing all of it.
And this year, we have the added benefit of having made it through last year! We survived and learned a lot – and together, we built a lot of great habits that I know will make this year an even better experience.
So happy acquisition season to you all! And whenever you're in doubt on a complex question like the one above, you can always call on your Data Stars. We're here to help you during this most wonderful time of year.
Check out last week's Quick Shot – "Make bold acquisition decisions AND sleep soundly at night!>