My long, strange trip into a career… and a calling  
By David Stolberg, Senior Account Director/Strategist
This year, as I get ready to set out to travel to see my amazing Mission clients throughout the country, I had to take a step back and evaluate just how I ended up at this point in my life. So if you've ever wondered, "How did a guy like David Stolberg start his career in fundraising?", I'd like to share the mountain-top experience that led me there. It's a long, strange trip that brought me to a career… and a calling.
Spoiler: 20 years ago, if you would have told me my career would be in fundraising and that I'd be working with Rescue Missions – helping them grow and boosting their fundraising efforts so they can better serve those in need – I would've thought you were crazy!
Where it all began
My story starts in 2002. I was a fresh-faced college graduate from the University of Oregon… ready to take the world by storm. Through a combination of luck, knowing the right people and a lot of hard work, I landed my first post-college job at the Nike headquarters, working in sports marketing.
I was rubbing shoulders with some of the most famous athletes of the 21st century while traveling the country under the Nike banner. It wasn't a bad way to spend your days as a 22-year-old! Everything was good, and I was having the time of my life. At that moment in time, I would've bet the farm that my career would be in sports marketing… with Nike for life.
Well… you may have heard the old saying: "As soon as you think you have everything figured out, God comes along and throws you a curveball." Such was the case for me.
Life's little curveball
In early 2007, I was invited to join a mission trip to Tanzania, Africa. The plan was to help an elementary school install freshwater pipes into the school. This would be a game changer for the school, since at that time, they had to send children down to the river with buckets each morning to collect water for the day.
Upon arriving in Africa, the sheer enormity of the landscape completely blew me away. But what most caught my attention were the people. We spent time in Moshi, Tanzania, which looked like an extremely poor village. But my experience of being there and speaking with villagers enriched my life beyond what I ever expected.
The community members in Moshi were incredibly generous and loving, going completely out of their way to make sure those around them were taken care of. Many people had, at most, a cup of rice to eat. But if they knew you had nothing, they would give up their food without hesitation to make sure you were fed.
Their selflessness is something that I will never forget. And to this day, I continually strive to live my life by their example of serving others.
Lessons learned on Kilimanjaro
While in Tanzania, we also had the opportunity to spend a few days hiking Mt. Kilimanjaro. Recognizing this to be the adventure of a lifetime, I spent several months before my trip in training for the climb that lay ahead.
On January 8, 2008, I successfully reached the summit – after hiking for six grueling days and battling some minor frostbite and altitude sickness. I'll never forget watching the sunrise over Africa, energized by the accomplishment, and realizing I wanted that feeling in my daily life too.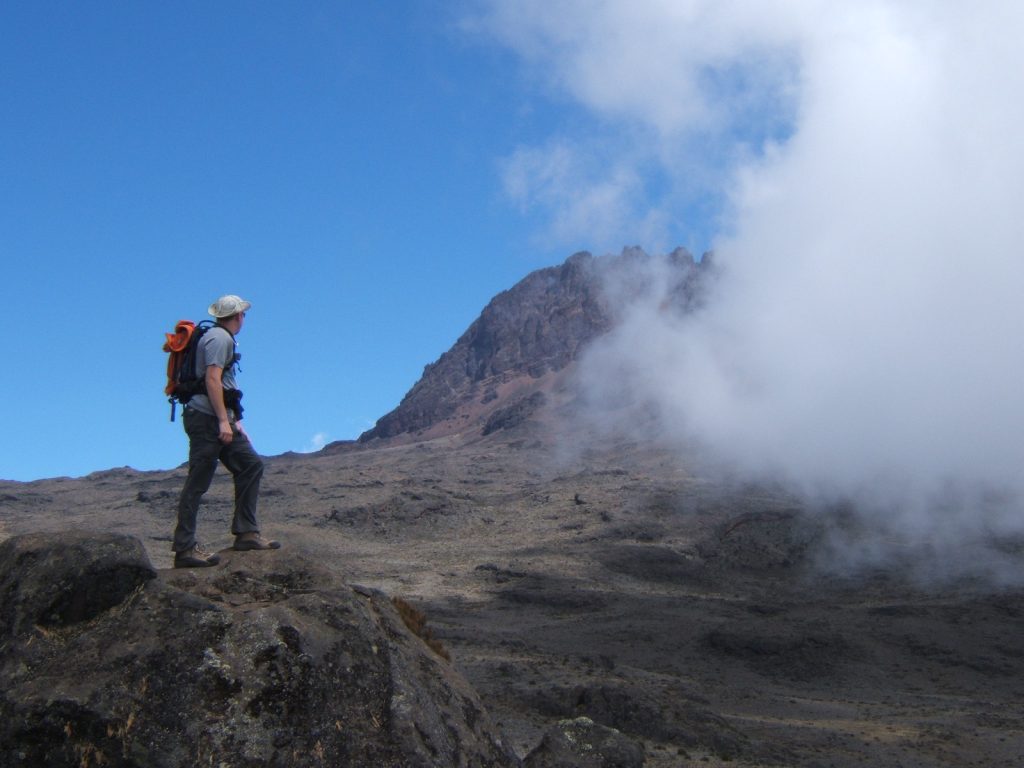 On my descent, I knew that when I returned home, my life would have to change. I didn't want to return to my job at Nike – and I vowed that I'd find a career where my work would help people.
A few months later, I found my first job in fundraising with Grizzard Communications before eventually joining the BDI team, where I have now been happily employed for more than 10 years.
A heart for serving others
Every day, I get to work with a great team of people and partners here at BDI. Knowing that we're playing a small role in all the great things that our Rescue Mission partners are doing around the country makes me feel not only proud, but extremely grateful.
Over the next few months, I'll be visiting several Rescue Missions across the country. I can't wait to sit with their development teams as we plan for their future and strategize on how to best accomplish the work of strengthening their communities and rebuilding lives on solid ground.
That experience at the top of Kilminjaro led me into nonprofit fundraising. I'm thankful for every person who's encouraged me along the path to this moment in time. And just like on the day I saw that sunrise from the top of a mountain in Africa, I now wake up each morning energized and eager to make a difference in this world.