During an unprecedented year, digital fundraising reached new heights
Over and over in 2020, we regularly heard what an "unprecedented year" it was because of COVID-19. So it should come as no surprise that 2020 was also an unprecedented year for digital fundraising.
With the continuation of social distancing and a dramatic increase in online engagement, we saw record-breaking numbers in our industry and, specifically, in our BDI clients' results during 2020.
Check out these industry benchmarks…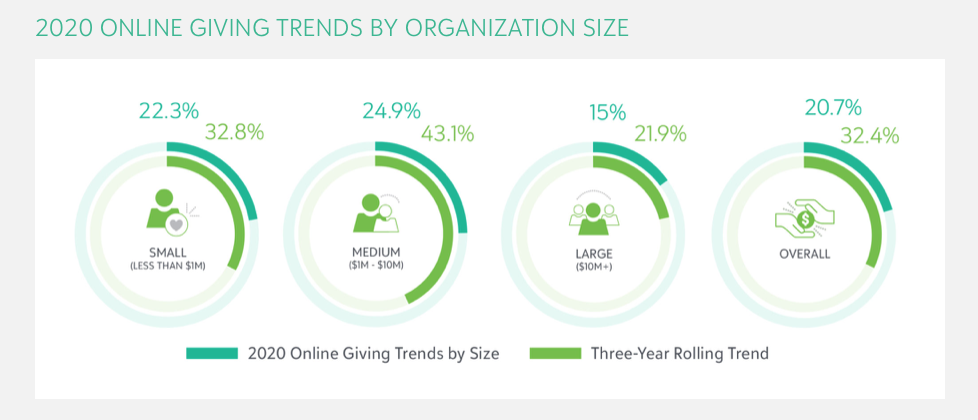 Overall giving grew by 2.0% in 2020, compared to 1.0% in 2019 and 1.5% in 2018.
Online donations accounted for 12.9% of all fundraising in 2020, compared to 8.7% in 2019 and up from 8.5% in 2018.
Donations made on a mobile device accounted for over 28% of online donations in 2020, up from 26% in 2019.
And overall, growth in online giving jumped from 6.9% in 2019 to a whopping 20.7% in 2020!
According to BDI's VP/Digital Strategy Stephanie Tippitt, the digital program at BDI has maintained a consistent growth pattern and continues to benchmark above industry key indicators. "But of course," she says, "2020 was off the charts due to the pandemic. All channels saw record increases."
In our digital program, BDI's clients saw even more jaw-dropping increases. For example, while the overall growth in online giving increased by 20% in 2020, BDI's client average increased by 86%. And online donations accounted for 14.6% of revenue for BDI's clients – higher than the Blackbaud benchmark of 12.9%.
Even in the midst of this unprecedented year, BDI's Digital Team made it a point to continue a robust program of testing. Testing is a critical component of any successful online fundraising program. The key is to test a variety of different variables throughout the year, across all your digital campaigns, to discover what works right now within each medium.
The process of discovering which appeals are most effective at reaching the hearts of donors involves:
Studying past results and industry trends.
Coming up with dynamic new creative ideas.
Testing new creative against proven control campaigns.
Looking at results and refining the approach.
Testing again!
Sure, testing new concepts allows you to discover the best approach for growing your online fundraising program. But even better, it makes it easy to learn a lot about what motivates your donors without risking a whole campaign, since you only test a portion of your file.
Testing is especially crucial in the ever-changing world of digital. What worked a few years ago – or even a few months ago – might not resonate with donors today. In this ever-evolving landscape, constant testing is mandatory.
Here's a quick case study that illustrates this…
In the fall of 2020, BDI's Digital Team decided to put our Year End campaign to the test. Testing this new concept in a limited audience was critical to prevent jeopardizing the results for this important campaign that our clients rely on heavily.
CONTROL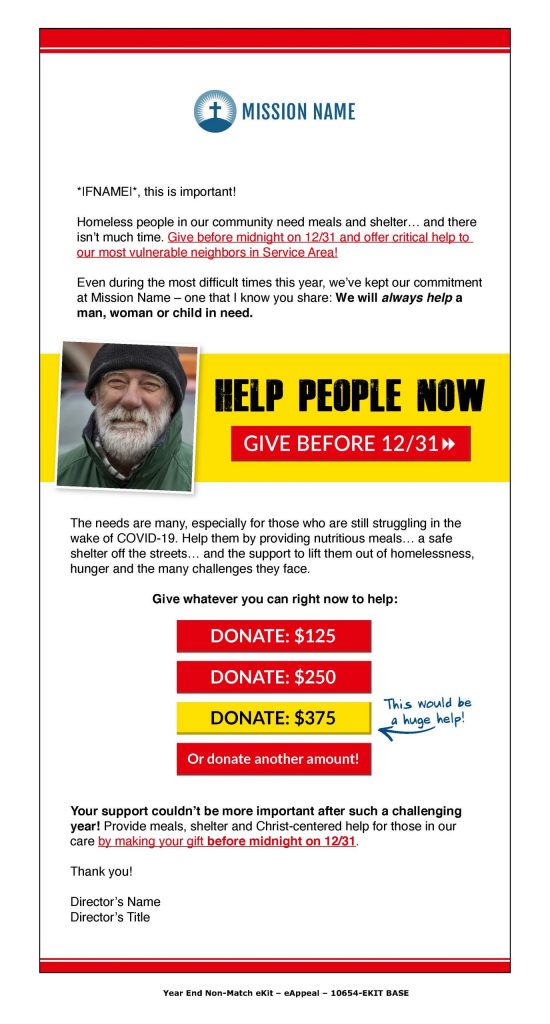 TEST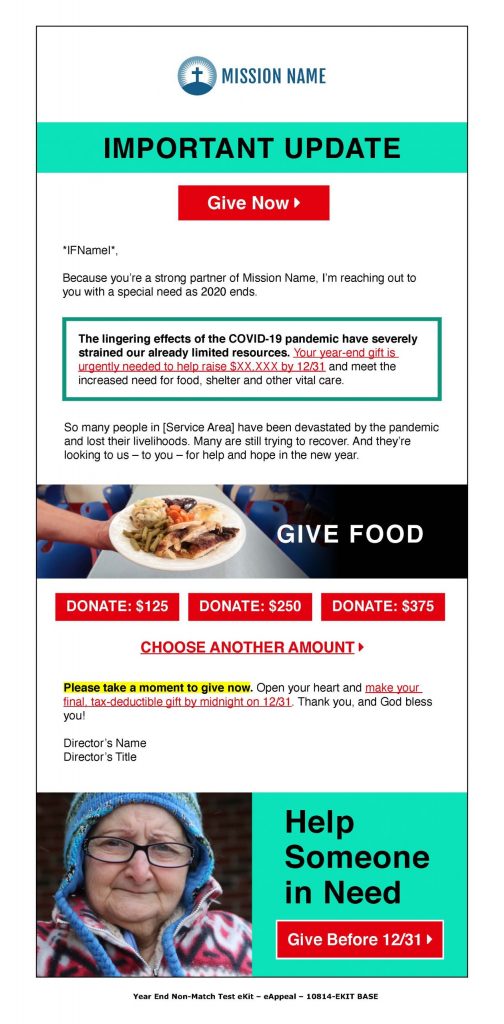 The challenge: Our Creative Team was tasked with creating a fresh design that would beat the Year End control: a red and yellow email that had worked well for many years.
The result: Creative delivered a bold and colorful approach – bright green and red banners – with lively, compelling photos.
The two creatives were tested head-to-head across a handful of clients… and the test won! It generated a +5% bump in click rate and +40% higher revenue. Thanks to this strategic testing, we now have learnings from new creative for Year End that we can apply to future campaigns.
2020 was an unprecedented year for many reasons, but even in the most unexpected year in recent memory, BDI's commitment to continue testing digital paid off with important new discoveries and huge successes. Make sure you have your own strategic plan of testing and implementing those learnings in place – when you do, you'll find many reasons for celebration in 2021.
You need to read this! Click here to read "What's reMarkable About Your Mission?" from BDI's CEO and President, Michael J. Tomlinson.